Dukkah (dook-ah), also know as Dugga, is a delicious blend of nuts, seeds, and spices.  It is based on a traditional Middle Eastern condiment consisting of a mixture of herbs, nuts, and spices.  The word derives from the Arabic word to "pound," since the spices are toasted and then traditionally pounded using a mortar and pestle.  Traditionally, dukkah is served as an early evening snack with bread and oil.
I first discovered this great mixture while on vacation in Western Australia (WA).  It has become a popular seasoning in Australia and can easily be purchased there.
But why buy it when you can easily make your own?  What is great about making this nut mixture, is that your can add and subtract ingredients to please yourself and family.  You can use any excess to coat chicken or seafood before baking, and Dukkah also adds a delicious flavor when sprinkled on roasted vegetables, meat, and salads.  Let your imagination be your guide!
The traditional way to serve Dukkah is with extra-virgin oil and bread.  First you dunk a piece of  bread in the olive oil and then in the Dukkah.  I served this at a large wine tasting party, and it was a big hit!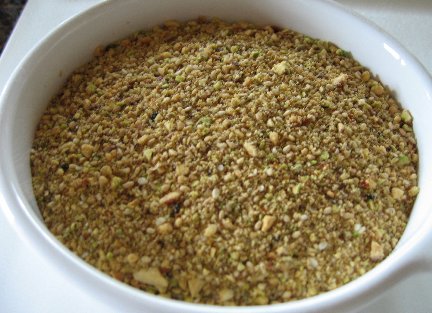 Ingredients:
1 cup shelled roasted pistachio nuts*
1 cup shelled roasted almonds
1 tablespoon whole coriander seeds
1 tablespoon whole fennel seeds
1 tablespoon whole cumin seeds
1/4 cup toasted sesame seeds
1 tablespoon crushed red pepper flakes
1/4 teaspoon Smoked Spanish Paprika (optional)
1 tablespoon coarse salt or sea salt
1 to 2 teaspoons coarsely-crushed black peppercorns
* Hazelnuts, pine nuts, macadamia nuts, sunflower seeds, and/or peanuts may be substituted. If you cannot purchase roasted nuts, toast the nuts in a hot oven for approximately 10 minutes (watch closely so they do not burn), stirring frequently.
Instructions:
In a separate container from the nuts, toast coriander seeds, fennel seeds, cumin seeds, sesame seed in a hot oven for approximately 5 to 8 minutes (also watch carefully so they do not burn). Remove from oven and let cool.
In your food processor, grind your toasted nuts until the mixture resembles small breadcrumbs. The mixture should be very dry and crumbly, not a paste. Be careful as over processing can release the oils in the nuts and turn the mixture into a nut spread such as peanut butter.
In a mortar and pestle, grind the coriander seeds, fennel seeds, cumin seeds, sesame seeds, and red pepper flakes slightly. You can try using your food processor for this, but I find the seeds are too small for using it.
In a bowl, combine the crushed nuts, crushed seeds, Smoked Spanish Paprika, salt, and pepper. Taste and adjust seasonings if necessary.
Store mixture in a covered container in the refrigerator.
To serve as a dip: Place 1 cup Dukkah in a small bowl and about 1 cup extra-virgin olive oil in a separate bowl. Dip cubes of fresh crusty bread first into the oil, then into the Dukkah and enjoy!
Yields a large heaping bowl full.
https://whatscookingamerica.net/Appetizers/Dukkah.htm
Comments and Reviews