Smoked Salmon Tartare with Wasabi Sabayon is a wonderful dish that I first tasted on the Holland American Cruise ship while cruising in the Caribbean.  The dish was served on the Holland American cruise ship, Oosterdam.  I really enjoyed the dish and it became one of the easy-to-make recipes that I will serve for a party or special occasion.  This appetizer is light and refreshing.
There is a bright flavor brought out by the fresh squeezed lemon.  The flavor of basil and chives offer a savory sensation to the salmon.  The wasabi sabayon base is added to additional flavors, such as rice vinegar and soy sauce that results in a hot little kick that enhance the smoked salmon.  One bite and you know you will be going back for more. Once made, serve the Smoked Salmon Tartare with Wasabi Sabayon to your guests on a nice plate garnished with lemon, lettuce leaf and the wasabi sabayon dotted on the plate.  It looks quite elegant and will impress your guests.  Be sure to have recipe copies on hand to share.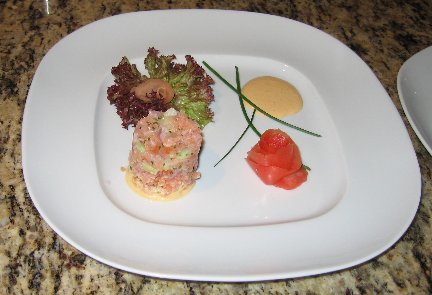 Smoked Salmon Tartar with Wasabi Sabayon Recipe:
Smoked Salmon Tartare with Wasabi Sabayon Recipe
Ingredients:
Wasabi Sabayon (see recipe below)
1 pound smoked salmon, finely diced*
1/2 cup finely-diced cucumber, peeled and seeds removed
2 medium shallots, finely diced
1/3 cup chives, finely diced
3 tablespoons extra-virgin olive oil
Coarse salt and freshly-ground peppercorns to taste
2 bunches red leaf lettuce, trim stem end off
8 sprigs fresh dill weed
8 lemon zest twists
16 slices pickled ginger
8 Tomato Roses
* For directions on smoking salmon, check out Linda's Smoked Salmon recipe.
Instructions:
Prepare Wasabi Sabayon; set aside until ready to use.
Mix together the diced salmon, cucumber, shallots, chives, and olive oil. Season with salt and pepper to taste.
Arrange lettuce leaves on bottom of each individual serving plate. Spoon the prepared Salmon Tartar into a ring mold in the shape of a tower and place on top of the lettuce. Place droplets of Wassabi Sabayon around the plate and garnish with two chive sprigs, fresh dill sprig, lemon twist, pickled ginger, and a tomato rose.
Makes 8 servings.

Wasabi Sabayon:
1/2 cup (3 yolks) egg yolks, beaten
1/4 cup rice vinegar
1/3 cup soy sauce
1 tablespoon lemon juice
1/3 teaspoon prepared wasabi
1/3 teaspoon sambal or chili paste
1 teaspoon fresh ginger, minced or grated
1 teaspoon Thai red curry paste, diluted
1 cup mayonnaise
1/2 cup whipped cream
Salt and pepper to taste
In a double boiler over medium-high heat, combine egg yolks and rice vinegar; whisk until mixture thickens and then remove from heat.
In a food processor, blend together the soy sauce, lemon juice, wasabi, sambal or chili paste, ginger, curry paste, and mayonnaise. After the mixture is blended, slowly fold in the whipped cream to make a fluffy sabayon. Season with salt and pepper as needed or to taste.
https://whatscookingamerica.net/Appetizers/SmSalmonTartare2.htm
Source:  This recipe is by Executive Chef, Andreas Sommerfeld, of the Holland American Cruise Line on the Oosterdam ship.