Grilled Hamburger with Bacon seems to be a favorite of everyone who enjoys bacon – especially men!  My husband loved these hamburger patties and wants me to make them again and again.
This ultimate bacon-wrapped burger is a true crowd pleaser and burger festival when you serve these fantastic hamburgers.  The addition of bacon gives a more elegant touch and makes a delicious dressed-up grilled hamburger.  Grilled Hamburger with Bacon are a great way to serve hamburgers to your family or friends as everyone seems to enjoy them.  These hamburger patties can be either broiled or barbecued.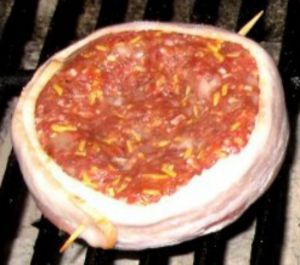 Check out all of Linda's Beef Recipes using various cuts of beef.
Grilled Hamburger Steaks with Bacon Recipe:
Grilled Hamburger with Bacon
Ingredients:
1 pound extra-lean ground beef (hamburger)
1 teaspoon salt
1/2 teaspoon freshly-ground black pepper
2 cloves garlic, minced
2 tablespoons minced onion
1 tablespoon A-1 Steak Sauce (optional)
4 slices thick bacon
Instructions:
Either preheat broiler or preheat barbecue grill (oil hot grill to help prevent sticking).
In a medium bowl, mix together (using your hands) hamburger, salt, pepper, garlic, onion, and A-1 Steak Sauce. Form into two 2-inch thick patties.
Wrap 2 bacon slices around each patty; secure with toothpicks and grill or broil approximately 7 minutes. Turn and grill or broil other side 5 minutes or until until a meat thermometer registers an internal temperature of 160 degrees F. Remove from oven or grill and enjoy!

This is the type of cooking and meat thermometer that I prefer and use in my cooking. I get many readers asking what cooking/meat thermometer that I prefer and use in my cooking and baking. I, personally, use the Thermapen Thermometer shown in the photo on the right. To learn more about this excellent thermometer and to also purchase one (if you desire), just click on the underlined: Thermapen Thermometer.


Makes 2 servings.
https://whatscookingamerica.net/Beef/HamburgerBacon.htm
Comments and Reviews