These fantastic Baked Sugar Doughnuts are not deep fried and full of calories and fat – but baked in the oven and definitely delicious!  These doughnuts are lighter than regular deep-fried doughnuts and still just as delicious.  So – how about some baked sugar doughnuts and coffee to start your morning?
Check out Linda's Bread Making Hints: Secrets to using the bread machine, About yeast in bread making, Sourdough Starter, and Quick Breads.
More great Bread Recipes, Sourdough Bread Recipes, and Quick Bread Recipes for all your bread making.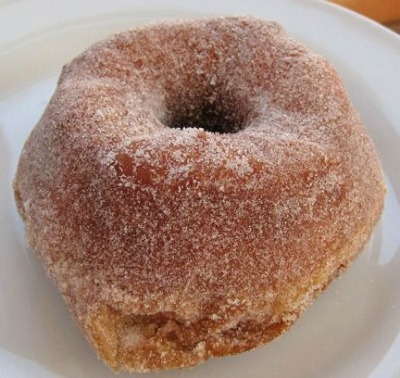 Baked Sugar Doughnut Recipe:
Baked Sugar Doughnuts Recipe
Ingredients:
1 cup milk (heated approximately 1 minute in microwave)
1/4 cup warm water (110 degrees F.)
2 tablespoons butter, melted
2/3 cup granulated sugar
2 eggs, room temperature and beaten
5 cups bread flour or all-purpose flour
1/2 teaspoon salt
1/4 teaspoon ground nutmeg
1 tablespoon vital wheat gluten (optional)*
3 teaspoons instant active dry yeast
Cinnamon Topping (see recipe below)
* The Vital Wheat Gluten helps the sweet bread dough rise better, be more elastic, and easier to roll out.
Instructions:
Roll dough out approximately 1/3- to 1/2- inch thick on a lightly-floured board. Using your floured doughnut cutter, cut out the doughnuts and place on a parchment-lined baking sheet (I like to use my silicone baking mats). If you don't have a doughnut cutter, use a 2 to 3-inch round cookie cutter. Cut out the smaller inner circle using a smaller cutter. Cover the doughnuts with plastic wrap and let rise for approximate 45 to 60 minutes.
At this point, the unbaked doughnuts can be covered with plastic wrap and refrigerated overnight (I have actually made them two days in advance). They can be either baked upon removing from the refrigerator or let come to a room temperature (I have done both ways). They do a slow rise overnight and it is not necessary to let them come to room temperature before baking.
Preheat oven to 375 degrees F. Bake for approximately 8 minutes or until the bottoms of the doughnuts are just golden. Do not overbake - under bake them a little, as they will continue baking outside the oven for a few minutes. You want an interior that is moist and tender. Remove from oven and let the doughnuts cool for 1 to 2 minutes.
Dip each doughnut in the melted butter and then in the sugar/cinnamon mixture.
Makes approximately 1 1/2 to 2 dozen doughnuts.
Cinnamon Topping:
1/2 cup butter, melted
1 1/2 cups granulated sugar
1 tablespoon ground cinnamon
While the doughnuts are baking, place the melted butter in a bowl and place and sugar and cinnamon in a separate bowl.
https://whatscookingamerica.net/Bread/BakedDoughnuts.htm
Comments and Reviews