Dill Pickle Bread recipe is a must try!  Do not be intimated by the dill pickles as the flavor is very delicate but still has the dill pepper taste.  The pickle brine definitely gives this bread a sour and salty taste.  If you are a fan of pickles, you will want to make this bread!
This is one of my favorite bread to serve at dinner parties.  I like to serve this bread with this fantastic Dill Pickle Soup and then sit back and enjoy the compliments!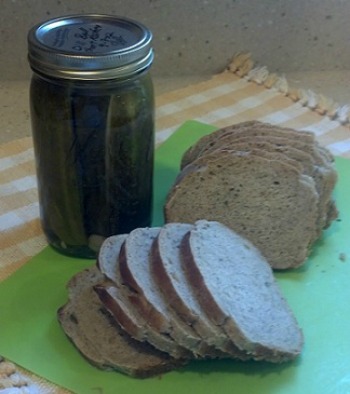 Photo courtesy of Alice Bowers of Carson City, NV (see Alice's comment below)
Check out Linda's Bread Making Hints:  Secrets to using the bread machine, About yeast in bread making, Sourdough Starter, Quick Breads.  Check out all of Linda's great Bread Recipes for your bread making.
Dill Pickle Bread Recipe:
Ingredients:
1 cup lukewarm dill pickle juice (110 degrees F.)*
1 large dill pickle, finely chopped
1 tablespoon extra-virgin olive oil
1 tablespoon dried dill weed
1 tablespoon granulated sugar
1/4 teaspoon salt
3 cups bread flour or unbleached all-purpose flour
3 teaspoons instant active dry yeast
* NOTE: Can use 1/2 cup dill pickle juice and 1/2 cup warm water (110 degrees F.)
Instructions:
Different bread making techniques:
After resting, turn dough bottom side up and press to flatten. Fold dough into an envelope by folding the top 1/3 of the way to the bottom. Then fold the bottom a 1/3 of the way over the top. Then press dough with the palm of your hand to make an indentation down the center of the dough and fold the top completely to the bottom, sealing the seam with the palm of your hand.
Place on a baking pan dusted with cornmeal or covered with a Silicone Baking Mat; cover and place in a warm spot to rise for approximately 20 minutes. Preheat oven to 400 degrees F.
Oven Rising: Sometimes I use my oven for the rising. Turn the oven on for a minute or so, then turn it off again. This will warm the oven and make it a great environment for rising bread . If you can not comfortably press your hand against the inside of the oven door, the oven is too hot. Let it stand open to cool a bit.
Cool or Refrigerator Rise: If I do not have the time to wait for the rise to finish or I know that I will be interrupted before the completed rise, I do a cool rise. A cool rise is when the dough is place in the refrigerator and left to rise slowly over night approximately 8 to 12 hours. I usually do this after the first rise and the dough has been shaped into a loaf.
After dough has risen, slash the bread with a very sharp knife making three 1/2-inch deep diagonal slashes. Brush the top of the bread with cold water and bake for 20 to 25 minutes or until nicely browned. A good check is to use an instant digital thermometer to test your bread. The internal temperature should be between 200 and 210 degrees F.

This is the type of cooking and meat thermometer that I prefer and use in my cooking. I get many readers asking what cooking/meat thermometer that I prefer and use in my cooking and baking. I, personally, use the Thermapen Thermometer shown in the photo on the right. To learn more about this excellent thermometer and to also purchase one (if you desire), just click on the underlined: Thermapen Thermometer.
Remove from oven and let cool on a wire rack.
Makes 1 1/2-pound loaf.
https://whatscookingamerica.net/Bread/DillPickle.htm
Comments from Readers:
Your pickle bread recipe was a hit in our household.  It has been requested that it go on the Super Bowl menu as appetizer-sized grilled cheese sandwiches.  Comments from the tasters were "Wow," "Right On" and "Super."  I sliced the bread fairly thin (like rye bread) and used a lovely sharp cheddar that is aged 15 months.  We also made a second sandwich with American sliced cheese and it was just as good.  Must be the bread! – Alice Bowers, Carson City, NV
Comments and Reviews