Categories:
Sweet Yeast Breads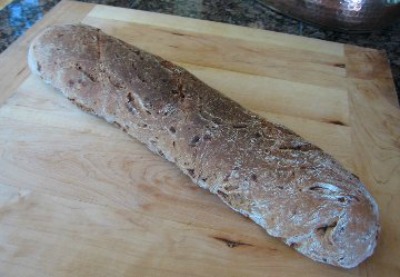 This dark, dense Raisin Pumpernickel Bread gets its color and intense flavor from the molasses, cocoa, and coffee.  The wonderful flavor in this bread comes from the subtle flavors of cocoa, coffee, molasses, and rye.
According to my husband, this Raisin Pumpernickel Bread is delicious anytime of day!
Check out Linda's Bread Making Hints: Secrets to using the bread machine, About yeast in bread making, Sourdough Starter, and Quick Breads.
More great Bread Recipes, Sourdough Bread Recipes, and Quick Bread Recipes for all your bread making.
Raisin Pumpernickel Bread Recipe:
Raisin Pumpernickel Bread Recipe
Ingredients:
1/2 cup lukewarm strong coffee (110 degrees F.)
1/2 cup lukewarm water or milk (110 degrees F.)
1 tablespoon olive oil
1 tablespoon molasses
1 teaspoon salt
1 tablespoon Dutch process cocoa
1 tablespoon caraway seeds
1/2 cup bread flour or unbleached all-purpose flour*
1/2 cup light rye flour*
1 1/2 cups whole wheat flour
1 tablespoon instant active dry yeast
1/2 cup raisins
* For a denser bread, substitute all pumpernickel flour.
Instructions:
Different bread making techniques:
After dough has rested, remove from bowl, and place on a lightly floured board. Add the raisins to the dough. Knead the dough with the raisins to mix the raisins in and form the dough into an oval; cover with plastic wrap and let rest for 10 minutes. Shape dough either into a loaf shape or a 10-inch disk; place on a jelly roll pan or cookie sheet that is dusted with cornmeal (I use the new silpads instead of cornmeal). Cover with plastic wrap and place in a warm spot to rise until doubled in size, approximately 1 hour.
Oven Rising: Sometimes I use my oven for the rising. Turn the oven on for a minute or so, then turn it off again. This will warm the oven and make it a great environment for rising bread. If you can nott comfortably press your hand against the inside of the oven door, the oven is too hot. Let it stand open to cool a bit.
Cool or Refrigerator Rise: If I don't have the time to wait for the rise to finish or I know that I will be interrupted before the completed rise, I do a cool rise. A cool rise is when the dough is place in the refrigerator and left to rise slowly over night approximately 8 to 12 hours. I usually do this after the first rise and the dough has been shaped into a loaf.
Preheat oven to 400 degrees F.
After dough has risen, slash the bread with a very sharp knife making three 1/2-inch deep diagonal slashes. Brush the top of the bread with cold water and bake for 20 to 25 minutes or until nicely browned. A good check is to use an instant digital thermometer to test your bread. The internal temperature should be between 200 and 210 degrees F.

This is the type of cooking and meat thermometer that I prefer and use in my cooking. I get many readers asking what cooking/meat thermometer that I prefer and use in my cooking and baking. I, personally, use the Thermapen Thermometer shown in the photo on the right. To learn more about this excellent thermometer and to also purchase one (if you desire), just click on the underlined: Thermapen Thermometer.
Remove from oven and let cool on a wire rack.
Makes 1 1/2-pound loaf.
https://whatscookingamerica.net/Bread/RaisinPumpernickel.htm
Comments and Reviews