I know that everyone thinks their blueberry muffin recipe is the best – but this is the Best Blueberry Muffin recipe!  These muffins are bursting with flavor, lots of fresh blueberries, and topped with a delicious lemon-sugar crumb mixture.  Give these blueberry muffins a try – you will not be disappointed.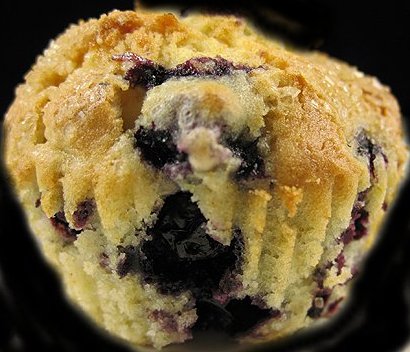 Check out Linda's Bread Making Hints: Secrets to using the bread machine, About yeast in bread making, Sourdough Starter, and Quick Breads.
Check out all of Linda's great Bread Recipes for your bread making.
Best Blueberry Muffin Recipe:
Best Blueberry Muffin Recipe
Ingredients:
Lemon-Sugar Topping (see recipe below)
2 cups sifted all-purpose flour
2 1/2 teaspoons baking powder
1 cup granulated sugar (less depending on tartness of blueberries)
3/4 teaspoon salt
1/2 cup chilled butter, cut into 1/4-inch pieces
2 eggs, well beaten
3/4 cup milk
1 teaspoon grated orange zest
2 cups (10 ounces) fresh or frozen blueberries*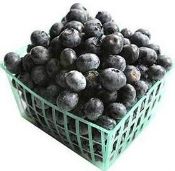 * Fresh Blueberries are obviously the best when you can get them. If not, the frozen blueberries are the next best choice. If using fresh blueberries, dust them lightly with flour; this helps prevent the blueberries from "bleeding" into the muffins. If using frozen blueberries, add them frozen to the batter; this will help prevent them from "bleeding" our their juices.
Instructions:
Preheat oven to 400 degrees F. Adjust oven rack to middle of oven. Lightly grease or spray with non-stick vegetable oil spray the muffin pan.
Prepare Lemon-Sugar Topping; set aside.
In a large bowl, combine flour, baking powder, sugar, and salt. With a pastry blender or two knives, cut in butter or margarine until particles are the size of small peas; make a well in the center.
In a small bowl, combine eggs and milk; add all at once to the well in flour mixture, stirring just until moistened. Gently fold in orange zest and blueberries, taking care not to over mix the batter. Fill prepared muffin cups 2/3 full using a large spoon or an ice cream scoop.
Bake 25 to 30 minutes (rotating muffin tin from front to back halfway through the baking time) or until muffin tops are golden brown and just firm. A good check is to use an instant digital thermometer to test your muffins. The temperature of the muffin should be at 200 degrees F.

This is the type of cooking and meat thermometer that I prefer and use in my cooking. I get many readers asking what cooking/meat thermometer that I prefer and use in my cooking and baking. I, personally, use the Thermapen Thermometer shown in the photo on the right.
Remove from oven and as soon as they have cooled enough to handle, remove the muffins from pan and place on a wire rack to finish cooling (if desired).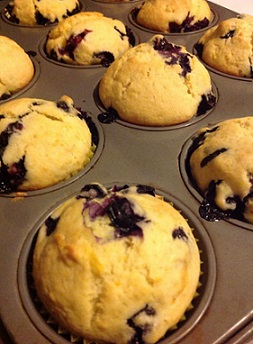 Serve warm or at room temperature.
Yields 12 muffins.
Lemon-Sugar Topping Recipe:
1/3 cup granulated sugar
1 1/2 teaspoons finely-grated lemon zest (rind) from 1 lemon
In a small bowl, stir together sugar and lemon zest until combined. Set aside until ready to use.
https://whatscookingamerica.net/Bread/bbmuffins.htm
Comments and Reviews