This Blueberry Coffee Cake is berry, berry, berry good!  This is my mother's recipe for Blueberry Coffee Cake.
This is a moist coffee cake that is loaded with plump blueberries and topped off with a sweet streusel topping.  It is great for either breakfast or dessert.  Plus you could also make muffins out of this recipe.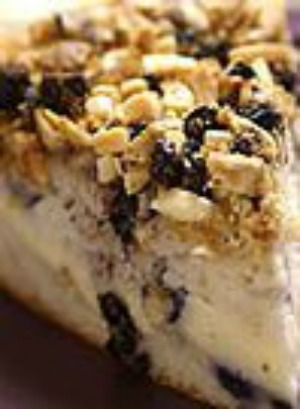 Check out Basic Rules For Baking or here for Secrets Of A Successful Cake.  Also check out more wonderful Cake Recipes and Blueberry Recipes.
Blueberry Coffee Cake Recipe:
Blueberry Coffee Cake Recipe
Ingredients:
Sugar Topping (see recipe below)
2 cups all-purpose flour
3/4 cups granulated sugar
2 1/2 teaspoons baking powder
3/4 teaspoon salt
1/4 cups vegetable oil
3/4 cup milk
1 egg
2 cups fresh or frozen blueberries*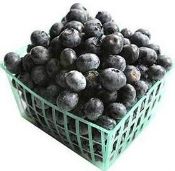 * When buying any type of berries, shop with your nose. Always pick the plumpest and most fragrant berries. They should be firm, bright, and fresh looking with no mold or bruises. If possible, buy locally grown berries. They're likely to be sweeter and juicier than those that are bred for shipment. Select berries that are in dry, unstained containers. (Stained containers may indicate over soft berries that are not freshly picked.) Mold on berries spreads quickly. Never leave a moldy berry next to a good one.
Refrigerate the blueberries soon after picking to increase the shelf life. If refrigerated, fresh-picked blueberries will keep 10 to 14 days.
Do not wash the blueberries until just before eating or using in your recipes to prevent berries from becoming mushy. Unwashed blueberries will stay fresh for up to two weeks in the refrigerator if kept dry.
Instructions:
Preheat oven to 375 degrees F.
Prepare Sugar Topping. Set aside until ready to use.
In a large bowl, combine flour, sugar, baking powder, salt, vegetable oil, milk, and egg. Fold in blueberries. Pour into an ungreased 8-inch square baking dish. Sprinkle prepared Sugar Topping onto top of cake batter.
Bake, uncovered, 50 minutes or until a toothpick inserted in center comes out clean.
Cake is done when the internal temperature registers approximately 205 to 209 degrees F. on your cooking thermometer.
Makes 8 servings.


Sugar Topping:
1/4 cup butter, room temperature
1/2 cup granulated sugar
1/3 cup all-purpose flour
1/2 teaspoon ground cinnamon
In a medium bowl with a pastry blender or two knives. cut butter into sugar, flour, and cinnamon until well blended.


https://whatscookingamerica.net/Cake/BlueberryCoff.htm
Comments and Reviews