Molten Chocolate Cakes are individual rich mini chocolate cakes that have a pocket of delicious chocolate sauce inside.  This cake has a brownie-like crust and a warm, creamy "pudding-like center" that oozes out when you cut into it.  You can serve this supremely delicious rich cake on it's own or with the warm Black Cherry Sauce.  These molten chocolate cakes are surprisingly easy to make, but tastes like you slaved away in the kitchen all day!
History:  In 1987, Jean-Georges Vongerichten, chef-owner of JoJo restaurant in New York, accidentally came up with the molten chocolate cake.  It is said that he pulled a chocolate sponge cake (the recipe is his mother's) out of the oven too early.  He tasted the cake and discovered that it was delicious, even with an underdone center.  He called the cake a Chocolate Valrhona Cake, named after the chocolate he used, and served it with vanilla ice cream.
Please check out this Baked Lobster Tail Dinner menu which includes this outstanding recipe.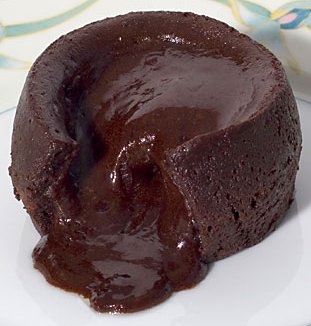 Learn the Basic Rules For Baking.
Molten Chocolate Cakes Recipe:
Molten Chocolate Cake Recipe
Ingredients:
4 ounces bittersweet chocolate, chopped into small pieces*
4 ounces semi-sweet chocolate, chopped into small pieces*
3/4 cup unsalted butter, cut into pieces
4 eggs
1/2 cup granulated sugar
1/4 cup all-purpose flour
1 tablespoon unsweetened cocoa powder
2 teaspoons pure vanilla extract
1 teaspoon instant espresso powder or 2 teaspoons instant coffee granules
1/2 teaspoon salt
Black Cherry Sauce (see recipe below)
Whipped cream (see recipe below)
Saved Chocolate
* Only use the best-quality chocolate that you can purchase.
Instructions:
Preheat oven to 375 degree F. Liberally spray six (6-ounce) ramekins with nonstick spray.
In a small saucepan over low heat melt the bittersweet and semi-sweet chocolates and butter, stirring often to prevent burning. Remove from heat and cool. Learn different techniques for How To Melt Chocolate.
In a large mixing bowl, beat eggs and sugar with electric hand mixer until "ribbon" stage, approximately 7 minutes. At that stage, it will be pale yellow and look like lightly whipped cream.
Add flour, cocoa powder, vanilla extract, espresso powder, and salt. Beat the batter for 2 additional minutes; add the melted chocolate mixture and beat another 5 minutes. The batter needs a lot of beating. This incorporates air, lightening the cake's texture.
Scoop the batter into the prepared ramekins, approximately 3/4 cup of batter in each ramekin. At this point, the cakes can be refrigerated and then baked later. Before baking, bring to room temperature.
When ready to bake, place the ramekins on a baking sheet and bake 15 to 17 minutes or until puffed and mostly dry on top around edges. It is critical to bake these cakes for the right amount of time. Otherwise, they will either be way too "molten," or end up as brownies. Oven temperatures vary, so check the cakes after 15 minutes. If they are really moist on top, bake one minute and check again. A good check is to use an instant digital thermometer to test your cake. The internal temperature should be at 160 degrees F. when done.
Remove cakes from oven and let rest 3 minutes (it is okay if they sink a little). The standing time firms up the cakes enough to allow you to unmold them in one piece
To unmold, place serving plate on top of ramekin and invert. Carefully remove ramekin, tapping lightly on the plate to loosen cake. Serve the molten cakes warm with warm Black Cherry Sauce, whipped cream, and shaved chocolate.
Makes 6 servings.
Black Cherry Sauce:
1 cup dry red wine
1/3 cup granulated sugar
1 teaspoon balsamic vinegar
2 pieces lemon and orange peel (use a peeler to shave of pieces of citrus peel)
1/2 teaspoon black peppercorns
1/4 teaspoon whole cloves
1 cinnamon stick
2 teaspoons cornstarch
1 tablespoon cold water
1 1/2 cups frozen black cherries
In a small saucepan, combine wine, sugar, balsamic vinegar, citrus peel, and spices. Bring to a boil and reduce to 3/4 cup, about 5 minutes. Remove from heat. Strain and return liquid to pan.
In a small bowl, mix cornstarch with water. Bring wine mixture back to a boil; whisk in cornstarch mixture, and simmer until thickened, about 2 minutes. Add cherries and simmer to heat through. Remove from heat; add almond extract. Serve warm.
Whipped Cream:
Whipping cream
2 tablespoons granulated sugar
2 to 3 drops pure almond extract
In a medium-sized bowl, whip cream, sugar, and almond extract to soft peaks.
https://whatscookingamerica.net/Cake/MoltenChocolate.htm
Source:  Recipe from Cuisine Magazine, Issue No. 19.
Comments and Reviews