Alfajores Jam Cookies are a specialty of Spain and Latin America with each region or even country having their own loved version.  Alfajores consist of two shortbread biscuit cookies that sandwich a gooey dulce de leche or jam center.  They are either topped with confectioners' sugar, rolled in coconut flakes, or dipped in chocolate.
In Argentina, alfajores are considered their national cookie eaten all year long at any time of day.  Plan on setting aside a full afternoon to make these cookies since they take some preparation and assembly work resulting in a very rich tasting cookie.  If you can hold off to wait a full day before eating them, the taste and texture improves as the jam softens the cookie so it melts in your mouth.  These can be a wonderful treat for a special occasion or to give as gifts.
I have made a previous version using dulce de leche in the center.  For this version, I decided to use raspberry and blueberry jam in the center and cover the cookies with white chocolate for more of a summer patriotic theme to share in a Creative Cookie Exchange with some great food bloggers.  You will find links to their cookie recipes at the end of this recipe.  You can decorate these cookies with various sprinkles to add color to match any holiday theme.
More favorite Cookie Recipes and Secrets To Making Perfect Cookies.  Also learn How To Have A Successful Holiday Cookie Exchange or Cookie Swap.
Alfajores Jam Cookies Recipe:
Alfajore Jam Cookies Recipe
Ingredients:
1 cup butter, room temperature
2/3 cups granulated sugar
2 tablespoons honey
1/2 teaspoon grated orange zest
1/2 teaspoon grated lemon zest
2 eggs, room temperature
1 teaspoon pure vanilla extract
3 cups all-purpose flour
1 teaspoon salt
1 teaspoon baking powder
2 1/2 cups white chocolate chips
1 to 2 tablespoons vegetable shortening or coconut oil
1 cup blueberry jam*
1 cup raspberry jam*
Red, white, and blue sprinkles (optional)
* Can substitute any flavor of jam or dulce de leche
Instructions:
Preheat oven to 350 degrees F. Line baking sheets with parchment paper or silicon mats.
In a large bowl, using your mixer, beat together butter, sugar, and honey until creamy. Add orange zest, lemon zest, eggs, and vanilla; beat together until combined.
In separate bowl, sift together the flour, salt, and baking powder. Stir the butter/egg mixture until combined into a dough. If the dough is still crumbly, you may have to knead it together with your hands or you can also add 1 teaspoon of milk or water if needed. Dough should be a little sticky at this point. Cover with plastic wrap and refrigerate for 1 to 2 hours to let the dough firm up for rolling.
When ready to make the cookies, remove dough from refrigerator. Roll the chilled dough onto a floured surface to 1/8-inch thickness. Using circle shaped cookie cutters or small drinking glass, cut dough into 2-inch rounds. Use a spatula and move dough circles to the prepared baking sheets and place about 1-inch apart.
Bake 8 to 10 minutes until cookies are dry and edges are lightly golden. Remove from oven and let cookies cool on the baking sheets for 5 minutes before transferring to cooling racks.
Assembling Alfajores: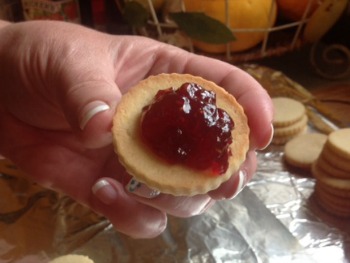 1. Set some parchment paper down on a countertop for the cookie assembly.

2. Once all the cookies have cooled, turn a cookie over so the flat side is facing up.

3. Use a teaspoon to place a dollop of jam in the center of the cookie.

4. Set the second cookie on top, flat side facing down towards the jam.

5. Gently press the cookies together just until the jam reaches the edge of the cookies. If the jam runs over the edges, use a knife to scrape the extra off the edges. It may take some practice with a few cookies before you get the technique down.
Melting White Chocolate - Microwave Oven Method:
You can use double boiler to melt chocolate or follow these microwave directions. Read How To Melt and Temper Chocolate
1. Place the white chocolate chips in a microwave-safe bowl, uncovered, to prevent moisture from collecting.

2. Place white chocolate chips in the microwave for only 30 seconds at a time on medium power until the chocolate is melted.

3. Be very careful not to overheat the white chocolate, as the chocolate may not look as if it has completely melted, because it retains its shape. The chocolate should be only slightly warmer than your bottom lip. You may still see lumps in it once you've stirred it, but do not worry; the residual heat of the chocolate will melt it. Do not rely on appearance alone when microwaving chocolate. The only way to know if it is fully melted is to gently stir it. Use a rubber spatula to stir the melting white chocolate. Do not leave in microwave until all the chocolate is melted.

4. Once the white chocolate chips are melted, stir in the vegetable shortening or coconut oil to slightly thin the chocolate.
Prepare Alfajores for dipping in white chocolate:
1. Line a large baking sheet with parchment paper or wax paper.

2. Place a alfajore cookie sandwich on the tines of a fork and dip into the melted white chocolate mixture until completely covered. Lightly tap the bottom of the fork against the top of the bowl a few times to allow excess white chocolate to drip off the cookie. This will also help the chocolate smooth on top out before setting cookies on the parchment paper.

3. Allow the white chocolate-coated alfajores to completely set up. This can be done faster by place them in the refrigerator. The alfajores are ready to serve when they are dry to the touch.
Once the white chocolate coating has hardened, the cookies should be stored in a covered container, layered between a sheets of parchment paper.
https://whatscookingamerica.net/Cookie/Alfajore-Raspberry-Blueberries-Cookies.htm
Comments and Reviews