Categories:
Baking
Chocolate Recipes
Christmas
Dessert Recipes
Molded Cookies
Peanut Butter
Peanut Blossom Cookies were created by Freda Smith of Gibsonburg, Ohio for the 1957 Pillsbury Bake-Off.  They are also known as the Peanut Butter Kiss Cookies.
This cookie did not win the 1957 Pillsbury Bake-Off contest, but it become very popular in the cookie lovers around the world!  What better place to put a chocolate kiss candy than in the center of a delicious peanut butter cookie!  Thank you Freda!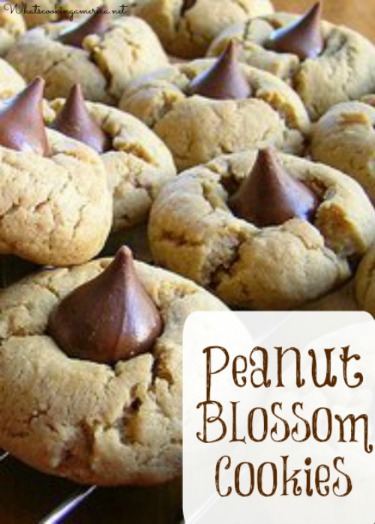 More favorite Cookie Recipes and Secrets To Making Perfect Cookies.  Also learn How To Have A Successful Holiday Cookie Exchange or Cookie Swap.
Shop What's Cooking America – Easy on-line shopping for all your cookie baking needs such as cookie sheets,
cookie cutters, wire cooling racks, cookie press, cookie decorating kits, Silicone Baking Mats, plus Linda's favorite Cookie Spatula (a thin flexible stainless-steel head that slides gently under cookies and other foods).
Peanut Blossom Cookies Recipe:
Peanut Butter Kiss Cookies Recipe
Ingredients:
1/2 cup butter or shortening, room temperature
1/2 cup creamy peanut butter, room temperature
1/2 cup granulated sugar
1/2 cup firmly-packed brown sugar
1 egg
1 tablespoon milk
1 teaspoon pure vanilla extract
1 3/4 cups all-purpose flour
1 teaspoon baking soda
1/2 teaspoon salt
1/4 cup granulated sugar
48 Hershey Kisses chocolate candies, unwrapped
Instructions:
Preheat oven to 375 degrees F.
In a large bowl, cream butter or shortening and peanut butter until light and fluffy. Gradually add 1/2 cup granulated sugar and brown sugar; beating until light and fluffy. Add egg, milk, and vanilla extract; beat well. Add flour, baking soda, and salt; stir into creamed mixture until well mixed.
Roll cookie dough into 1-inch balls; roll balls in the remaining 1/4 cup sugar. Place balls, 2 inches apart, onto ungreased cookie sheets.
There are two popular ways to cook these cookies. Take your pick:
Bake 8 minutes. Remove from oven; press a chocolate kiss candy into the center of each cookie. Return to oven and bake another 2 minutes or until cookies are light brown. Remove from oven and remove from cookie sheet; let cookies cool on wire cooling racks.
Bake 8 to 10 minutes or until lightly browned. Remove from oven and immediately press a chocolate kiss into the center of each cookie (cookie will crack around edges). Remove from cookie sheet and let cookies cool on wire cooling racks.
https://whatscookingamerica.net/Cookie/PeanutButterChocKiss.htm
You Might Also Like:
Peanut Butter Cookies
A recipe collection wouldn't be complete without most children's favorite cookie – Peanut Butter Cookies. This is a very easy-to-make and delicious cookie.
Sweet Banana Peanut Butter Cookies
Bananas and peanut butter all in one cookie.  What could be better?
Chocolate Peanut Butter S'more Cookies
Recipe created by Lisa Jaworski.  Lisa says, "I created these cookies because I wanted to use up some Ritz crackers.  They were a huge hit at my afternoon tea!
Chocolate Peanut Butter Balls
These peanut butter balls are so good that they literally melt in your mouth – it is hard to stop eating them!  They taste like Reeses' Peanut Butter Cups candy.  Very easy to make.  Especially great during the Christmas holiday.
Comments and Reviews