Lemon, Vodka, Orange Liqueur, and Sugar Cookies
Tini Lemon Cookies, an adult cookie recipe, are just as light and addicting as its alter ego the Lemon Drop Martini Cocktail.  These delicious Tini Lemon Cookies are served best with friends, laughs, and stories of wild times.  Soft and crunchy, sour and sweet – much like life!   Kelly Cooper's whimsical cookies are for adults, not only because each is carefully paired with a drink, but because they are deliciously suited for the discerning palette.
Recipe and photo courtesy of the Cookies For Grown-Ups cookbook by Kelly Cooper.  Kelly's whimsical cookies are for adults, not only because each is carefully paired with a drink, but because they're deliciously suited for the discerning palette.  I slightly adapted the recipe for easier preparation.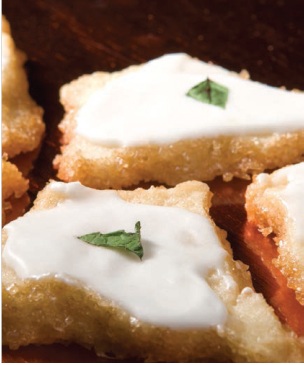 More favorite Cookie Recipes and Secrets To Making Perfect Cookies.  Also learn How To Have A Successful Holiday Cookie Exchange or Cookie Swap.
Tini Cookie Recipe 
Tini Lemon Cookies Recipe - Adult Only Cookies
Ingredients:
1 cup unsalted butter, softened
2/3 cup granulated sugar
1/4 cup powdered (confectioners') sugar
2 egg yolks
2 tablespoons fresh-squeezed lemon juice
2 tablespoons lemon zest
1 tablespoon orange liqueur
4 tablespoon vodka
6 tablespoons raw sugar, divided
2 2/3 cups all-purpose flour
1/2 teaspoon baking powder
1/4 teaspoons salt
Lemon Frosting (see recipe below)
Instructions:
In a large bowl, using an electric mixer, cream together butter, granulated sugar, and powdered sugar until light and fluffy, about 3 minutes. Mix in egg yolks, lemon juice, lemon zest, orange liqueur, vodka, and 3 tablespoons raw sugar. Beat until well blended.
Whisk together flour, baking powder, and salt in a small bowl; add to mixture. Beat until just incorporated.
Form dough into 2 logs (1-inch in diameter) and wrap each log in parchment paper. Flatten sides of logs to form the triangular shape of a martini glass. Freeze for 1 hour or refrigerate for 3 hours.
Preheat oven to 350 degrees F. Either line the cookie or baking sheets with parchment paper or nonstick baking sheets.
Cut logs into 1/4-inch thick cookie slices (exaggerate martini shape by trimming with a knife).
Place the remaining 3 tablespoons raw sugar on a plate and press the edges of each cookie into sugar to coat. Place each cookie 1-inch apart on the prepared baking sheets.
Bake for approximately 11 to 13 minutes or until the bottoms are just golden. Remove from oven, let sit for a few minutes on the baking sheet and then transfer to a cooling rack.
Prepare Lemon Frosting. Frost the cooled cookies, leaving 1/4-inch border around the edge. The frosting should not cover the raw sugar edges of the cookies. If using, decorate each cookie with a small portion of a mint leaf.
https://whatscookingamerica.net/Cookie/TiniVodkaCookie.htm
Lemon Frosting:
3 tablespoons unsalted butter, softened
2 cups powder (confectioners') sugar, sifted
2 tablespoon vodka
3 tablespoons lemon juice
1 tablespoon orange liqueur
Mint leaves for decorations (optional)
In a large bowl, mix together butter, powdered sugar, vodka, lemon juice, and orange liqueur until a consistency between a frosting and a glaze forms.
Comments and Reviews