These Holiday Butterscotch Ginger Scones are sweeter than the average scone and sprinkling a bit of sugar on top of the dough before baking produces a slightly crunchy top layer to the scones.  The ginger and butterscotch combination makes for a delightful holiday scone experience.
Photo and recipe by Ellen Easton 2007, Holiday Mints and Sugars, by Reva Paul 2007 – All Rights Reserved
Check out more of Ellen Easton's  Tea Travels™ articles and recipes.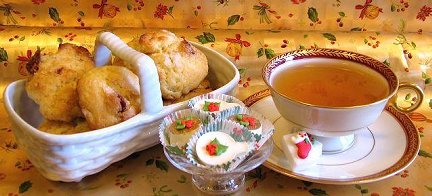 Check out Linda's History of English High Tea, English High Tea Menu, and Afternoon Tea Recipes.
More of Linda's delicious Scone Recipes and Bread Recipes.
Holiday Butterscotch Ginger Scones Recipe:
Holiday Butterscotch Ginger Scones Recipe
Ingredients:
2 1/2 cups all-purpose flour
2/3 cup granulated sugar
1 1/2 teaspoons baking powder
1/2 teaspoons baking soda
1/4 teaspoon salt
6 tablespoons unsalted sweet butter, cold
1/2 cup buttermilk*
1 large egg
1 1/2 teaspoons pure vanilla extract
1 teaspoon ground cinnamon
1/4 teaspoon ground nutmeg
1/2 cup butterscotch morsels (chips)
1/4 cup candied ginger bits (or diced candied ginger)
Egg Wash (see recipe below)
Cinnamon-Sugar (see recipe below)
* Learn how to make a Buttermilk Substitution.
Instructions:
Preheat oven to 350 degrees F.
In a large bowl, mix flour, sugar, baking powder, baking soda, and salt together.
In a large bowl, combine flour, sugar, baking powder, baking soda, and salt. With a pastry blender or two knives, cut the cold butter into flour mixture until particles are the size of small peas.
In a mixing bowl, blend buttermilk, egg, vanilla extract, cinnamon, and nutmeg together. Fold in butterscotch morsels and candied ginger bits; add mixture to the flour mixture.
With floured hands, pat dough to a 3/4-inch thickness onto a floured board. With a floured cutter of your desired shape, cut out and place 1-inch apart on a parchment paper lined or a lightly greased and floured baking sheet. If a drop scone is preferred, use 1/4 cup and place as instructed above.
Lightly brush the top of the scones with the egg wash. Extra cinnamon-sugar may also be sprinkled on top to taste.
Bake 12 to 18 minutes until lightly golden brown. Baking time will vary according to the size of your scone.
NOTE: Additions and or substitutions to this scone recipe may include flavored extracts, chocolate chips, coconut flakes, fruits, herbs, raisins, savories and spices to taste.
Yields: 12 full size scones or 24 small size scones.
Egg Wash:
1 large egg
1 tablespoon water
In a small bowl, mix together the egg and water, repeat if needed.
Cinnamon Sugar:
1/4 cup granulated sugar
1 or 2 tablespoons cinnamon, to taste.
In a small bowl, mix together the sugar and cinnamon. If more Cinnamon/Sugar is needed, repeat if needed.
https://whatscookingamerica.net/EllenEaston/HolidayButterscotchScones.htm
---
TEA TRAVELS™ – Wishing You Happy TEA TRAVELS!™  Tea is the luxury everyone can afford!™ and Good $ense for $uccess are the trademarked property of Ellen Easton/ RED WAGON PRESS
Ellen Easton, author of Afternoon Tea~Tips, Terms and Traditions (RED WAGON PRESS), a lifestyle and etiquette industry leader, keynote speaker and product spokesperson, is a hospitality, design, and retail consultant whose clients have included The Waldorf=Astoria and Plaza Hotels.  Easton's family traces their tea roots to the early 1800s, when ancestors first introduced tea plants from India and China to the Colony of Ceylon, thus building one of the largest and best cultivated teas estates on the island.

Purchase Ellen Easton's Tea Books:
Each 5 x 7 book is $20 postpaid Continental USA only.  Wholesale and fundraising accounts welcome.  Include name, address, zip code, and phone number for shipping.  Check or MO order payable to:  RED WAGON PRESS, 45 East 89th Street, STE. 20A, New York, NY 10128-1256.  All inquires to [email protected]
AFTERNOON TEA…TIPS,TERMS and TRADITIONS
72 pages of how to's, 27 photos, history, etiquette and FAQ about afternoon tea, serving styles and more. "Tea is the luxury everyone can afford!™"

TEA TRAVELS™ – FOR THE HOLIDAYS
64 pages, 21 color photos. A complete holiday menu includes 25 easy to prepare recipes; theme teas, decorating & gift ideas; invitation template and secret sources.
Comments and Reviews