Slow Cooker – Crock Pot Recipe
This delicious slow cooker and low-calorie Skinny Spaghetti recipe and photo were shared with me by the website Skinny Ms.  According to the writers, they believe in eating whole-foods. That is, eating foods in their whole state or as close to the way nature intended.  Because our bodies are 100% natural, the fuel for our bodies should be too.
Skinny Spaghetti is the perfect family meal when paired with a nice big salad!  This healthy spaghetti recipe is just as hearty and delicious as traditional recipes, but it has fewer calories and less saturated fat. The recipe can easily be made vegetarian simply by eliminating the meat.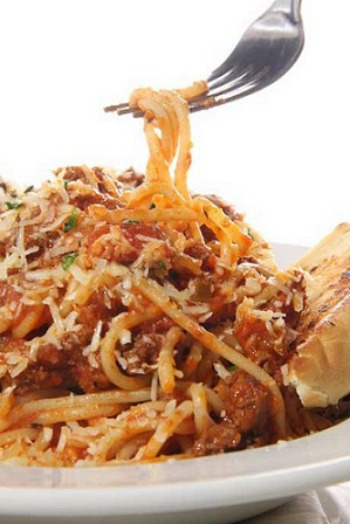 Ingredients:
1 pound lean ground beef or prepared turkey sausage (see recipe below)
1 (24-ounce) jar spaghetti sauce (no sugar added)*
1 cup low-fat cottage cheese
1 cup shredded skim mozzarella cheese
1 cup low-fat ricotta cheese
1 tablespoon Italian seasoning or dried oregano
1/2 teaspoon coarse or sea salt
1/2 teaspoon freshly-ground black pepper
2/3 of (13.25-ounce) box dried 100% whole wheat spaghetti pasta**
* I use either Amy Organic Marinara Pasta Sauce or Ragu Light Tomato and Basil Sauce.
** Angel hair or regular spaghetti pasta may be substituted (your choice).
Instructions:
In a large frying pan or skillet over medium heat, cook the ground beef or the prepared Turkey Sausage Mixture (see recipe below), breaking into small pieces while cooking. Cook until the ground beef or turkey sausage loses it's pink color. Remove from heat; drain and discard the fat. Add the spaghetti sauce to the drained meat; set aside.
In a large bowl, combine cottage cheese, mozzarella cheese, ricotta cheese, Italian seasoning, salt, and pepper; mix to combine.
In your crock pot/slow cooker, spoon a layer of the meat sauce onto the bottom of the pot. Add a double layer of the dried pasta (break to fit if necessary), and top with a layer of the cheese mixture. Be sure to keep pasta and cheese about 1-inch from the sides of your pot as they tend to burn when touching the sides of the pot.
Repeat the layering with the meat sauce, dried pasta, and cheese mixture until all the ingredients are used. You should have 3 to 4 layers.
Cover your crock pot/slow cooker and cook on low heat for 2 to 3 hours or until the spaghetti is al dente (firm but not hard).
Makes 6 servings.
Turkey Sausage Mixture:
1 pound lean ground turkey or chicken
1/2 teaspoon coarse or sea salt
1 teaspoon garlic powder
1/2 teaspoon freshly-ground black pepper
1 teaspoon dried sage
1/2 teaspoon crushed red pepper flakes
1/2 teaspoon onion powder
1/4 teaspoon cayenne pepper
1 teaspoon dried oregano
In a large bowl, add the ground turkey or chicken, salt, garlic powder, pepper, sage, red pepper flakes, onion powder, cayenne pepper, and oregano. Mix thoroughly until well blended; set aside until ready to fry.
If making the Turkey Sausage Mixture ahead of time, refrigerate until ready to use.
https://whatscookingamerica.net/Pasta_Rice_Main/SkinnySpaghett.htm