This is a delicious Creamy Spinach and Tortellini Recipe that is sure to please your family.  It is also very easy-to-make.
Here is something delicious for the pasta lovers.  Enjoy this Creamy Spinach and Tortellini recipe for an easy-to-prepare weeknight dinner.  Cooks up fast and everyone in the family will enjoy it.  This is a great option for a meatless meal.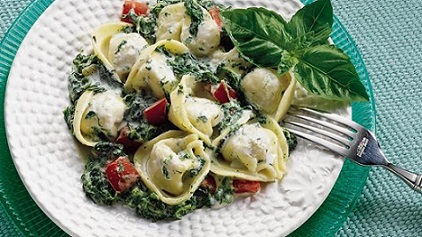 Pasta Hints and Tips and more delicious Pasta Recipes.
Creamy Spinach and Tortellini Recipe:
Creamy Spinach and Tortellini Recipe
Ingredients:
1 (16-ounce) package fresh or frozen uncooked cheese tortellini pasta
2 tablespoons olive oil
1/2 cup chopped onion
3 cloves garlic, minced
1 (9-ounce) package frozen chopped spinach, thawed
1 large tomato, cubed
1/4 cup chopped fresh basil
1/2 teaspoon salt
1/2 teaspoon pepper
1 cup heavy cream or whipping cream
1/4 cup freshly-grated Parmesan Cheese
Instructions:
Cook tortellini according to package directions; drain and return to pan to keep warm. Learn How To Cook Pasta Properly.
In a large frying pan over medium heat, heat olive oil. Add onion and garlic; saut4 minutes or until lightly browned. Stir in spinach, tomato, basil, salt, and pepper; cook another 5 minutes, stirring occasionally. Stir in heavy or whipping cream and parmesan cheese.
Cook until mixture just comes to a boil. Reduce heat to low and mix in tortellini; cook an additional 4 minutes or until thoroughly heated.
Remove from heat, transfer onto individual serving plates, and serve with additional parmesan cheese.
Makes 4 servings.
https://whatscookingamerica.net/Pasta_Rice_Main/SpinachTortellini.htm
Sources:  This Creamy Spinach and Tortellini recipe was a Pillsbury Bake-Off winner in 1990 by Jeanine Alfano of Montauk, NY.  Photo courtesy of the Pillsbury.com web site.
Comments and Reviews