Chicken Havana is a Cuban-style recipe that is so great tasting that you will become famous for serving it!  This chicken dish has a very exciting, rich, and satisfying flavor.  I love the Spanish olives in this dish.  I have heard this Chicken Havana recipe is a classic Cuban recipe from the city of Havana during the 1950s. Is this true or not?  I can not find any more information on this dish.
More great Poultry Recipes and learn how to Brine Poultry for a moister and tastier dish.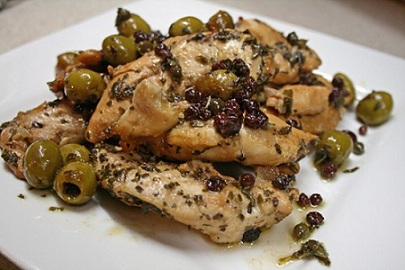 Chicken Havana Recipe:
Ingredients:
4 chicken breast halves*
4 chicken thighs
2 tablespoons minced garlic
2 tablespoons dried oregano leaves
Salt and coarsely-ground black pepper to taste
1/2 cup red wine vinegar
1/2 cup extra-virgin olive oil
1/2 cup currants
1/2 cup pitted whole Spanish olives
1/4 cup capers
3 bay leaves
1/2 cup firmly-packed brown sugar
1/2 cup dry white wine
Chopped fresh cilantro leaves (for garnish)
* The U.S. Department of Agriculture, as well as food agencies in the United Kingdom and elsewhere, advises against washing poultry. Rinsing chicken will not remove or kill much bacteria, and the splashing of water around the sink can spread the bacteria found in raw chicken. Cooking poultry to 165 degrees Fahrenheit effectively destroys the most common culprits behind food-borne illness.
Instructions:
In a large re-sealable plastic bag, combine garlic, oregano, salt, pepper, wine vinegar, olive oil, currants, Spanish olives, capers, and bay leaves. Add chicken breasts and thighs; seal and let marinate, refrigerated, 12 hours.
Preheat oven to 350 degrees F. Place chicken pieces in a 9x13-inch baking dish. Spoon the marinade over the chicken. Sprinkle chicken pieces with brown sugar and carefully pour white wine into the bottom of the pan.
Bake 20 to 25 minutes, uncovered, or until a meat thermometer registers an internal temperature of 165 degrees F (juices will run clear when cut with the tip of a knife). Remove from oven.

This is the type of cooking and meat thermometer that I prefer and use in my cooking. I get many readers asking what cooking/meat thermometer that I prefer and use in my cooking and baking. I, personally, use the Thermapen Thermometer shown in the photo on the right. To learn more about this excellent thermometer and to also purchase one (if you desire), just click on the underlined: Thermapen Thermometer
To serve, arrange chicken pieces on serving platter or individual serving plates. Strain Spanish olives, currants, and capers from the pan juices; place over the chicken, and sprinkle with chopped cilantro. Serve remaining pan juices in a sauce boat.
Makes 4 to 6 servings.
https://whatscookingamerica.net/Poultry/ChickenHavana.htm
Source:  
Photo courtesy of the cooking Blog, Got No Milk (A Dairy-Free Zone).
Comments and Reviews