One-Pot Chicken Casserole
Chicken and Rice is a classic favorite chicken recipe that is a comfort food you can make at the last minute when you have not planned your dinner ahead of time. This recipe is very easy to make and always a favorite with men, especially my husband. I have slightly adapted this chicken and rice recipe to make it healthier and lower in fat. So, what could be easier than this one-pot chicken casserole?
More great Poultry Recipes and learn how to Brine Poultry for a moister and tastier dish.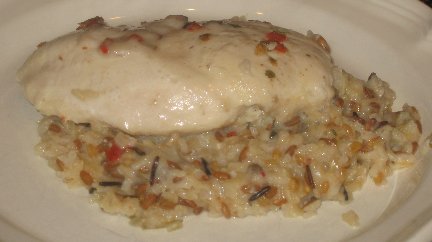 Chicken and Rice Recipe:
Ingredients:
1 cup whole grain rice blend (see photo below)*
2 1/2 cups water
1/2 teaspoon salt
4 (6 to 7 ounces each) chicken breast halves, boneless and skinless**
1 (10 3/4-ounce) can 98% fat-free cream of mushroom soup, undiluted
1 cup water or skim milk
Herbs or spices of your choice (I like to add some finely minced chile peppers. That's the red in the above photo.)
* You can substitute long-grain rice or any other recipe mix that you desire.
** The U.S. Department of Agriculture, as well as food agencies in the United Kingdom and elsewhere, advises against washing poultry. Rinsing chicken will not remove or kill much bacteria, and the splashing of water around the sink can spread the bacte
Instructions:
Preheat oven to 350 degrees F.
In a large saucepan over medium-high heat, combine rice blend, water, and salt; bring just to a boil. Stir once, cover with a tight fitting lid, reduce heat to low, and let simmer for 25 minutes. NOTE: You do not want to cook the rice all the way, as it will finish cooking in the oven. Remove from heat and pour rice in an large ungreased casserole dish.
Place chicken breast halves onto the top of the rice mixture. In a medium bowl, combine mushroom soup with the water or milk, and herbs of your choice. Pour mixture over the top of the chicken.
Bake, covered, approximately 45 minutes or until a meat thermometer registers an internal temperature of 165 degrees F. in the chicken (juices will run clear when cut with the tip of a knife). Remove from oven and serve.

This is the type of cooking and meat thermometer that I prefer and use in my cooking. I get many readers asking what cooking/meat thermometer that I prefer and use in my cooking and baking. I, personally, use the Thermapen Thermometer shown in the photo on the right. To learn more about this excellent thermometer and to also purchase one (if you desire), just click on the underlined: Thermapen Thermometer.
Makes 4 servings.
https://whatscookingamerica.net/Poultry/ChickenRice.htm
Comments and Reviews