Savory Chicken Salad is my "go to chicken salad."   I love the savory taste of the onions and curry combined with the sweet pop of the dried cranberries.   This Savory Chicken Salad recipe goes great on a bagel, stuffed in an artichoke, or rolled in a fresh leaf of lettuce.
This is also the perfect recipe for your leftover chicken or turkey meat.  Do not forget about using your leftover Thanksgiving turkey.  Be creative!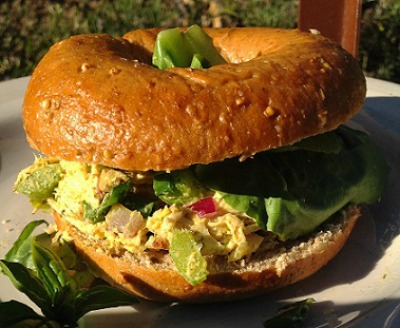 More wonderful Salad and Salad Dressing Recipes and Poultry Recipes.
Shop What's Cooking America
– Easy on-line shopping for all your cooking and baking needs such as
salad bowls, salad tongs, salad green's spinner, lettuce keepers, salad dressing containers
garlic press and peeler set, 
Chef Knives, Kitchen Tools, Cookware, Bakeware, Enameled Cast-Iron Dutch Ovens, KitchenAid Stand Mixers, Food Processors, Silicone Baking Mats
, plus Linda's favorite 
Thermapen Thermometer
.
Savory Chicken Salad Recipe:
Savory Chicken Salad Recipe
Ingredients:
4 cups diced cooked chicken (about 2 pounds)*
1 cup toasted and coarsely chopped pecans**
2 to 3 celery ribs, cut into small pieces
2 to 3 tablespoons finely-chopped green onion
1/4 cup dried cranberries**
1/2 to 3/4 cup light or regular mayonnaise
1 tablespoon yellow mustard
3 teaspoons curry powder
3 teaspoons fresh or dried dillweed
* Poached, baked, or barbecued until the center of the chicken is no longer pink and reaches a temperature of 165 degrees F. on your meat thermometer. You could even use leftover turkey. This is also a great way to use a purchased supermarket rotisserie chicken.
** You can substitute your favorite nuts.
*** Dried cherries or raisins may be substituted.
Instructions:
In a large bowl, place the diced cooked chicken.
Add the pecans, celery, green onions, cranberries, mayonnaise, mustard, curry powder, and dill weed; toss together until all the ingredients are combined.
Cover and place prepared chicken salad in the refrigerator for about 2 hours before serving to allow the flavors to blend properly.
To serve, either serve as a salad or as a mixture for a sandwich. Makes enough chicken salad to do both ways.
Makes 4 to 6 servings.
https://whatscookingamerica.net/Poultry/SavorySweet-ChickenSalad.htm
Comments and Reviews