This homemade Tomato Sauce has a lovely fresh flavor that can be used for spaghetti, ravioli, chicken Parmesan, pizza, or anything else that you need tomato sauce!  This is an easy-to-make Basic Tomato Sauce made from canned tomatoes and seasoned to your tastes.  This tomato sauce only takes about 15 minutes, from start to finish, to make, plus it is so much better than the "stuff" you get in a jar.
I love this easy-to-make tomato sauce.  So – why buy the jarred tomato sauce when you can very simply make your own basic tomato sauce?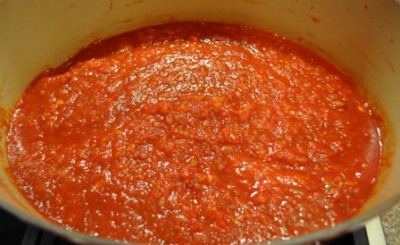 Check out Linda's Butters, Condiments, Sauces, Relish and Jelly Recipes for more great ideas.
Basic Tomato Sauce Recipe:
Basic Tomato Sauce Recipe
Ingredients:
2 tablespoons extra-virgin olive oil
1 cup diced onion
2 to 3 cloves garlic, chopped or minced
1 (28-ounce) can crushed or diced tomatoes, undrained (no salt or low salt preferred)*
2 teaspoons crushed red pepper flakes
2 teaspoons Italian seasoning
Salt to taste
* Use only top-quality canned tomatoes in this recipe. Using poor quality canned tomatoes can leave an acidic taste in your mouth
Instructions:
Heat the olive oil in a large frying pan over medium-high heat. Add the onions and saute until translucent. Add the garlic and cook and stir another 2 to 3 minutes.
Stir in the tomatoes, red pepper flakes, and Italian seasoning. Season with salt to taste. Cook until completely heated, approximately another 2 to 3 minutes.
For a smooth sauce, place mixture in your blender or food processor and process until texture that you want.
Makes approximately 3 1/2 cups (enough for 4 to 6 servings).
https://whatscookingamerica.net/Sauces_Condiments/BasicTomatoSauce.htm
Comments and Reviews