My husband loves this Asparagus with Poached Eggs and Shaved Parmesan recipe  He looked at me funny when I first served it to him, but he loved it!   He said I could make this asparagus dish anytime.  It would make a wonderful luncheon dish.  I have also served this asparagus dish as a side dish for my gourmet dinner group.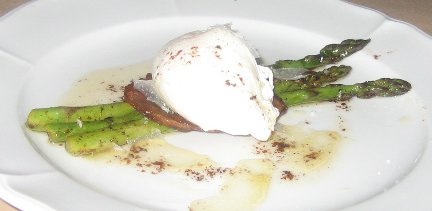 For more great Low Fat Recipes, Low Calorie Recipes, Low Carbohydrate recipes, and Diabetic Recipes, check out my Diet Recipe Index.  Also check out my Nutritional Chart for fat grams, carbohydrate grams, and calories for all your favorite foods.
Please check out my five-course Baked Lobster Tail dinner menu which includes this fabulous Asparagus with Poached Eggs & Shaved Parmesan.
Asparagus with Poached Eggs and Shaved Parmesan Recipe:
Asparagus with Poached Eggs and Shaved Parmesan Recipe
Ingredients:
2 pounds asparagus, cut into 5- to 6-inch lengths (use the thicker stem ones)
Coarse salt, sea salt, or fleur de sel
1 tablespoon extra-virgin olive oil
Freshly-ground black pepper
4 large eggs
1 cup (lightly packed) parsley leaves, chopped
1 small piece of Parmesan Cheese (Parmigiano-Reggiano), room temperature
Instructions:
Snap off the tough ends of the asparagus. Cook the prepared asparagus.
Boiling Asparagus: Cook in boiling salted water until just crisp-tender, approximately 4 to 5 minutes for thick stalks. Remove from heat, drain, and toss with olive oil and salt and pepper to taste. Divide asparagus among 4 dinner plates.
Oven Roasting Asparagus: Preheat oven 425 degrees F. Place the asparagus on baking sheet. Drizzle with olive oil then toss to coat the asparagus completely. Spread the asparagus in a single layer and sprinkle with salt and pepper. Roast approximately 15 to 20 minutes or until crisp-tender. Divide asparagus among 4 dinner plates.
Grilling Asparagus: Preheat barbecue grill. Grill the asparagus spears approximately 5 to 10 minutes, until nicely charred and just fork tender, turning them every few minutes so that they brown relatively evenly. Divide asparagus among 4 dinner plates.

Poach the eggs - Check out Linda's article on Poached Eggs:
I like to poach my eggs in a wide shallow pan. Use a pan that is at least 3-inches deep so there is enough water to cover the eggs, and they do not stick to the bottom of the pan. Also make sure your pan is wide enough to hold all the eggs you will be poaching, as you don't want the eggs to stick together. NOTE: I like to use a non-stick pan so the poached eggs will not stick to the bottom of the pan.
One at a time, break each egg onto a saucer or into small cups or bowls. Slip eggs carefully into simmering water by lowering the lip of each egg-cup 1/2-inch below the surface of the water. Let the eggs flow out. Do not put too many eggs in the pot at one time. If the yolk breaks as you crack the egg or as you are putting the egg in the water, that egg is a goner. Pull it out and use it for something else or perhaps someone wants scrambled eggs instead.
With a spoon, gently nudge the egg whites closer to their yolks. Immediately cover with a lid and turn off the heat. Do not disturb the egg/eggs once you have put it in the water!
Set a timer for exactly 3 minutes for medium-firm yolks. Adjust the time up or down for runnier or firmer yolks. Cook 3 to 5 minutes, depending on firmness desired.
When the eggs are done, lift each poached egg from the water with a slotted spoon, but hold it over the skillet briefly to let any water clinging to the egg drain off. Drain the eggs well.
Place a warm poached egg on top of each asparagus portion; dab with a paper towel to soak up any visible water. Sprinkle with salt, pepper, and parsley.
Pull a cheese planer/slicer or use a vegetable peeler across the top of the piece of Parmesan cheese to produce wide shavings. Arrange several shavings around each plate. Serve immediately.
Makes 4 servings.
Per Serving - 19 Fat grams, 161 calories, 4 WW points
https://whatscookingamerica.net/Vegetables/AsparagusEgg.htm
Comments and Reviews