Homemade Lemonade is so refreshing and delicious!  When you have lemons, you should make old-fashioned Homemade Lemonade.  When you make it yourself it tastes just like your Grandma used to make.  I recall drinking a tall sweating glass of lemonade on a hot summer day.  The tang of the lemon blended with just right sweetness hit the spot every time.
True lemonade is tangy, slightly sweet, and very easy-to-make.  You will never again want to drink lemonade made from concentrate!  The secret to the perfect lemonade is to start by making simple syrup.  Dissolving the sugar in hot water effectively disperses the sugar in the lemonade, instead of having the sugar sink to the bottom.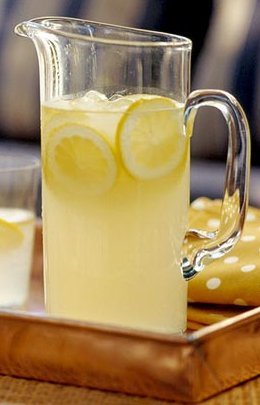 Old-Fashioned Homemade Lemonade Recipe:
Keyword:
Old-Fashioned Homemade Lemonade Recipe
Instructions
Homemade Lemonade Instructions:
Prepare Simple Syrup in advance and refrigerate until ready to use.

In a large pitcher, combine freshly-squeezed lemon juice and cold Simple Syrup.

Add water, lemon slices, and ice cubes; stir until well blended. Taste to make sure the lemonade is not too sweet for your taste, if so add additional cold water.

Refrigerate approximately 50 to 60 minutes before servings.

Serve in tall glasses over ice.

Note: To prevent your ice from watering down your lemonade as it melts is to freeze some lemonade in your ice trays and use them to keep your drinks ice cold. It works great!

Yields approximately 6 cups.
Simple Syrup Instructions:
In a medium saucepan, combine sugar and water. Boil for 5 minutes, without stirring. Remove from heat and let cool before using.

Store in the refrigerator in an covered container. Sugar is a natural preservative, so Simple Syrup keeps for a while in the refrigerator. Eventually mold will begin to grow if stored too long.

Recipe Notes
* Check out my web page on Juicing Citrus Fruits (Lemons, Limes, & Oranges).
** You may add more or less water to your desired taste.
*** You can reduce the sugar to 3/4 cup, if desired.
Comments and Reviews