Country Pate with Prunes and Hazelnuts Recipe
Country Pate with Prunes and Hazelnuts was inspired by a Julia Child recipe.  She says that everyone should have a pate in their cooking repertoire.  This mild Country Pate with Prunes and Hazelnuts replaces the liver with ground veal, the onions with shallots, and then added the layers of prunes and hazelnuts.  To improve the pate's density and texture, you allow it to cool, cover it with plastic wrap, and weight it with a brick or large can while it chills.  Because of this final step, this pate is best made the day before you intend to serve it.
What is great about this pate is it not only makes a wonderful starter to a meal, but it also can be a meal in itself.  Just add some olives, goat cheese, cherry tomatoes and bread, and you have an elegant, light summer supper!
Pates and terrines are similar, but pate is smooth and terrines tend to be chunky.  I found that this makes a very large pate or terrine loaf.  For most parties, 1/2 of the recipe works well for me.  Excellent served with crackers or toasts made from skinny baguettes.
This outstanding recipe was shared with me by Christi Thomas of Portland, Oregon.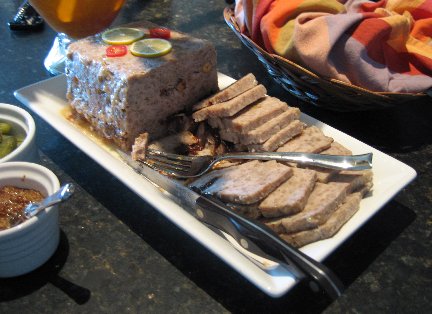 Country Pate with Prunes and Hazelnuts Recipe:
Country Pate with Prunes and Hazelnuts Recipe
Ingredients:
3 tablespoons butter, room temperature
4 shallots, peeled, sliced, and minced
2 cloves garlic, peeled and minced
1 pound ground chicken breast meat*
1 pound ground veal*
1 pound ground pork*
2 eggs beaten
5 ounces goat cheese, room temperature
1 cup fresh bread crumbs, packed
3 tablespoons brandy
1 tablespoon coarse salt
1/2 teaspoon ground allspice
1/2 teaspoon each of ground cardamom
1/2 teaspoon freshly-ground black pepper
1/4 teaspoon dried thyme or 1 tablespoon fresh thyme leaves
About 18 dried and pitted prunes
1/2 cup hazelnuts, lightly toasted (see Note)
Nonstick baking spray for the pan
* Grind the chicken breasts in a food processor or, better yet, ask your butcher to do it.
** To toast hazelnuts: Spread the nuts on a baking sheet with a lip and toast them in a preheated 350 degrees F. oven for 10 to 12 minutes, until the meat of the nuts is slightly browned. Put the nuts in a clean tea towel and rub them. About 75% of the brown, paper-thin inner skins will come off on the towel and that is usually enough.
Instructions:
Preheat oven to 350 degrees F. Melt the butter in a frying pan and sautthe shallots and garlic until soft, approximately 7 to 10 minutes.
In a large mixing bowl, combine the sauted shallots and garlic with the ground chicken, ground veal, ground pork, eggs, goat cheese, bread crumbs, brandy, salt, allspice, cardamom, black pepper, and thyme.
Place 1/3 of this meat mixture in a pate mold or large loaf pan that has been sprayed with nonstick baking spray. Smooth the top of the mixture with a spatula. Cover with the lightly toasted hazelnuts. Add another 1/3 of the meat mixture, again patting the surface smooth. Place the pitted prunes on top of this layer, about three to a row, six rows total. Cover with the remaining meat mixture.
Place the pate-filled pan in a larger size pan. Fill the larger pan with water until the liquid is about halfway up the side of the smaller pan. Bake for 1 1/2 hours, or until the juices are almost clear. Remove from oven. Cool the pate for an hour, cover it with plastic wrap, then weight it with a brick or a large, heavy can. Refrigerate overnight.
Removed the pate from the refrigerator and discard the plastic wrap. Run a sharp knife around the perimeter of the pate. Cover the pan with a serving platter and flip the pan and the platter upside down. The pate will slip out of the pan, ready for slicing.
I found that this makes a very large pate loaf. For most parties, 1/2 of the recipe works well for me.
Serves many.
https://whatscookingamerica.net/Appetizers/CountryPate.htm
Source:  This delicious pate is from the The Big Platter Cookbook by Lou Jane Temple and A. Cort Sinne.
Comments and Reviews