Afternoon Tea
Articles and Photos by Ellen Easton and What's Cooking America 2020©
Ellen Easton sponsored by BULOVA.com  
Tucked away on the upper east side of Manhattan sits a hidden jewel box serving one of the very best afternoon teas in NYC, The Lowell Hotel's Pembroke Room.
The Lowell Hotel, Designed by Henry Stern Churchill (1893-1962), was constructed between 1925 and 1926 for Leo Wise. Its Art Deco/Modern facade is a distinguished design in brick and glazed terra cotta.
Owner and Design Director Dina DeLuca Charouni, along with her team, the London based architect Mark Pinney (Harrods) and designer Michael Smith (The White House), in 1984, restored every nook to luxurious perfection.
Known for its discreet service, under the watchful eyes of Heiko Kuenstle, GM and Eric Dupaix, Director of Operations, whether decorated for the holidays or in full bloom on a beautiful spring day, The Lowell specializes in understated elegance.  Elite film industry executives and CEOs from the major fashion design houses; publishing and financial worlds are regular patrons.
PEMBROKE ROOM AFTERNOON TEA WITH CHAMPAGNE
In a serene setting on the second floor of The Lowell, The Pembroke Room, serves as the ideal backdrop for Executive Chef, Michael Fred's legendary afternoon teas. All are regally presented with aristocratic ambiance on hand-painted Washington Pickard china, one of America's finest china companies.
Using only the absolute freshest seasonal and regional ingredients available, Chef Fred embodies a quintessential European sensibility to combine classic American cuisine with an Asian–European inspired technique.
The management holds steadfast to a traditional English tea menu that changes several times a year but often with a non-traditional twist.  Do not be alarmed if you find your cucumber savory on grain bread instead of the palette cleansing white with mint. A selection of properly sized scones served warmed and passed by the wait staff, includes Chef's very own strawberry preserves. So scrumptious in fact, discerning diners – both Lowell Hotel guests and area residents alike – often ask for a sampling of Chef's preserves to take home as a reminder.
SWEETS IN THE GARDEN TEA
Each sweet and pastry is finely crafted to enhance the experience of the guest.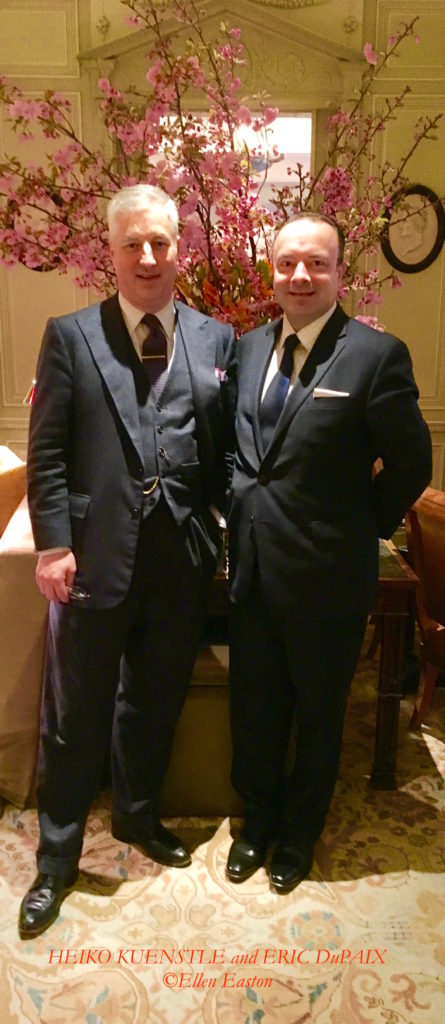 Whilst I am an advocate that tea should be steeped in porcelain, the variety of tea offerings in the Pembroke Room are presented in a silver teapot.  I often wonder if public venues use silver to help defray the damage caused to porcelain.  Nonetheless, on request, the staff will decant the tea in the kitchen, which helps to prevent the leaves from mixing with the metallic alloys stewing in the pot.
Having been a patron of the Lowell Hotel for over thirty-five years, in addition to the regular afternoon teas and theme teas, I have given-as well as recommended others for private tea parties.  I have found for the most part the management to be receptive to my tea etiquette and menu suggestions.  I have yet to be disappointed with the results.
It's reassuring to know that a host or hostess can be a guest at his or her own event.  Chef Michael Fred and Eric Dupaix are always happy to work with me to ensure all is, as I would expect it to be in my own home.  This alone makes the Lowell a special place to entertain or meet friends and colleagues.
Consistently ranked among the top luxury hotels of the world, The Lowell, New York is centrally located on 28 East 63rd Street between Madison and Park Avenues in Manhattan, just steps from the city's world-class museums and designer boutiques. It offers 47 suites and 25 deluxe rooms, all of which are uniquely decorated with exquisite antique furnishings. Many of the guest rooms, including the recently renovated Penthouse Suite, Garden Suite, and Lowell Suites, feature private terraces as well as wood-burning fireplaces.  Afternoon Tea is served Wednesday through Sunday from 2 PM to 6 PM. Reservations strongly suggested. Gluten-free and vegetarian selections are available with advance notice on request.
Understanding Tea Time Service
Tea Etiquette Faux Pas and Other Misconceptions About Afternoon
Afternoon Tea at The Lowell Hotel, Pembroke Room with What's Cooking America
We were looking forward to meeting with What's Cooking America Columnist, Ellen Easton for tea in the Pembroke Room at The Lowell Hotel. Ellen has been a Tea Travel columnist for us for over 10 years and our first time meeting her in person and sharing an afternoon tea.
The Lowell is a quaint boutique hotel that is warm and luxurious hidden by a modest entry from the street. You would not know from the outside what a gem lies within until you step through the door.
We were greeted in the lobby by the Director of Operations of The Lowell, Eric Dupaix. He walked us through lovely parlors, library, and sitting rooms, each with their own working fireplace. Guests of The Lowell can easily find a respite from the busy city while staying there.  A lovely restaurant is hidden within the walls of The Lowell, the Majorelle. They serve a French/Moroccan cuisine in a colorful dining room, with bursting bouquets of fresh flower arrangements and a miraculous illumination of bright natural light flooding through the dining areas.
Mr. Dupaix escorted us to the stairway that took us to the second floor when our tea time approached where we ascended to the Pembroke Room. Entering through large French doors, to a lovely corner table overlooking the European style tea salon which was decorated with Christmas decor and fresh greenery. The tables were all set with polished silver and holiday colors beckoning us to a perfect afternoon tea experience.
The Classic Afternoon Tea in the Pembroke Room had a savory selection of seasonal English tea sandwiches to sample including, thin-sliced cucumber and dill, gently kippered salmon and caviar, a deviled egg salad sandwich topped with a slice of hard-boiled egg, turkey with arugula, and a petite Old Bay lobster roll.
The tray of sweet delights was displayed with, small pecan tarts, squares of deep red velvet cake, a seasonal macaron, carrot cake, and a crunchy chocolate mousse. Scones were served fresh from a basket by the waiter with Devonshire cream, lemon curd, strawberry preserves, and orange marmalade.
The tea menu had quite a variety of teas to choose from their "Grand Cru Teas" of a premium Darjeeling, a Himalayan 1 stFlush, and a Assam Donyipolo .  We also found a melody of classic blacks, Greens and a featured holiday selection and fruit tea infusions that all sounded too good to not try. The good news, you can change your tea after your first pot and give another blend a try.
I chose for my first pot the premium Darjeeling tea having an opportunity to try this wonderful blend for the first time Darjeeling tea is also known as the champagne of teas. It was smooth and warm A bit earthy with tones of fruity or citrusy taste it was much smoother than regular black tea. The second pot I tried was the Nuit A Versailles. Infused with the Bergamot oil, kiwi, yellow peach, orange and violets. I have a soft spot for the taste of violets so I wanted to try this tea. it was light refreshing very fruity, I would love to have this blend to brew at home.
The Pembroke Room's Afternoon Tea Menu:
Three set menus highlight an assortment of Dammann Frères loose leaf teas and herbal infusions.
THE CLASSIC PEMBROKE TEA 
Add a glass of champagne
Seasonal English Tea Sandwiches
Homemade traditional scones
Sweets
THE GENTLEMAN'S TEA 
 A Twist on our Traditional Afternoon Tea with an additional Tasting of Whiskey or Port
THE IMPERIAL TEA
 In addition to the Classic Pembroke Tea & Champagne:
 Caviar is served with Toast Points, Blinis, Crème Fraiche, & Assorted Garnishes
Tea Selection Menu:
GRAND CRU TEAS 
PREMIUM DARJEELING TEA S.F.T.G.F.O.P. Called "the champagne of teas," Darjeeling by Dammann Tea is a classic black tea with a light body, smooth taste and lively aroma. Typically grown in West Bengal, India this tea is steeped in history. The initials stand for Super Fine Tippy Golden Flowery Orange Pekoe, which is not a type of tea but a system for grading the size of tea leaves.
HIMALAYAN 1ST FLUSH G.F.O.P. An exceptional tea produced by a plantation situated at the height of 1800m near the Eastern border of Nepal. A nuanced tea presenting rich aromas and delicate flavors
ASSAM DONYIPOLO Harvested in the province of Arunchal Pradesh of North Assam, this black tea offers a unique balance of aromatic richness without bitterness or astringency with notes of licorice and cocoa
BLACK TEAS 
EARL GREY– A simple blend of China teas with fine bergamot from Calabria.
ENGLISH BREAKFAST – Blend of Ceylon, Darjeeling and Assam teas.
LAPSANG SOUCHONG – This pungent smoky flavor is a classic.
VANILLE- Blend of Ceylon and China teas embellished with vanilla cuts and flower petals.
FOUR FRUITS ROUGES – Blend of 'four red fruits' combined with smoked Ceylon and China Black Teas. Cherry, strawberry, raspberry and red currant lend a fruity flavor
JARDIN BLEU- Blend of black teas sourced from Ceylon and China, flavored with rhubarb, wild strawberry, and cornflower's petals to lend a fruity note to the infusion
ÉTOILE DU DÉSERT – Black tea with spicy ginger flavor enhanced by a hint of flowered orange blossom, highlighted by the enchanting scent of rose
GREEN TEAS 
MANDARIN JASMINE – A green and strongly perfumed jasmine tea enriched with jasmine flowers.
L'ORIENTAL – Blended with passion fruit, bush peach and wild strawberry flavors, flower petals deliver a highly fragrant cup.
GENMAI CHA – A mixture of Bancha green tea, roasted rice and puffed rice with hints of green, maritime cereals
THE VERT MENTHE – Blend of Chinese Gunpowder green tea with Moroccan mint.
NUIT A VERSAILLES – Bergamot essential oil, kiwi, yellow peach, orange blossom and violet blossom flavors are infused in this Green Tea to evoke the flowering gardens of Versailles
HERBAL INFUSIONS AND FRUIT INFUSIONS
CHAMOMILE FLOWERS – Herbal infusion of golden chamomile blossoms
LEMON VERBENA – Lemongrass, lime and mint and orange blossom.
ROOIBOS CITRUS – Lemon, clementine and blood orange, kola flavor, orange peels and sunflowers.
MENTHE POIVREE – A Herbaceous plant, peppermint is harvested during summer before it flower
When visiting New York City, be sure to visit the Lowell Hotel, and book an afternoon tea in the Pembroke Room.
Make A Reservation:
Pembroke Room Afternoon Tea Hours:
Wednesday – Sunday 2:00PM-5:30PM
28 East Sixty-Third Street, New York, NY 10065
1-212-838-1400
Check out more of Ellen Easton's Tea Travels™ articles and recipes.
Learn about the History of English High Tea and more delicious Afternoon Tea and High Tea Recipes.
TEA TRAVELS™ – Wishing You Happy TEA TRAVELS!™  Tea is the luxury everyone can afford!™ and Good $ense for $uccess are the trademarked property of Ellen Easton/ RED WAGON PRESS
Ellen Easton, author of Afternoon Tea~Tips, Terms and Traditions (RED WAGON PRESS), a lifestyle and etiquette industry leader, keynote speaker and product spokesperson, is a hospitality, design, and retail consultant whose clients have included The Waldorf=Astoria, Plaza Hotels, and Bergdorf Goodman.  Easton's family traces their tea roots to the early 1800s, when ancestors first introduced tea plants from India and China to the Colony of Ceylon, thus building one of the largest and best cultivated tea estates on the island.

Purchase Ellen Easton's Tea Books:
Each 5 x 7 book is $20 postpaid Continental USA only.  Wholesale and fundraising accounts welcome.  Include name, address, zip code, and phone number for shipping.  All Sales Final. Check or MO order payable to:  RED WAGON PRESS, 45 East 89th Street, STE. 20A, New York, NY 10128-1256.  All inquires to teatravels@aol.com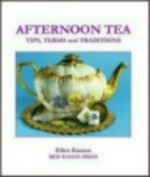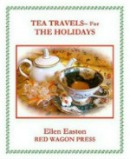 AFTERNOON TEA…TIPS, TERMS and TRADITIONS
72 pages of how to's, 27 photos, history, etiquette and FAQ about afternoon tea, serving styles and more.
TEA TRAVELS™ – FOR THE HOLIDAYS
64 pages, 21 color photos. A complete holiday menu includes 25 easy to prepare recipes; theme teas, decorating & gift ideas; invitation template and secret sources
Comments and Reviews