Organizing Kitchens – Pantries – Menus – Meals
By Lea Schneider, Professional Organizer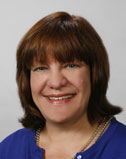 Author Lea Schneider, a columnist for What's Cooking America, is a freelance writer and organizational expert whose organizing ideas have been published in many magazines including Woman's Day, Better Homes and Gardens Kitchen and Bath Ideas, Family Circle, Parents Magazine, as well as numerous newspapers and websites.  She is also a member of the Association of Food Journalists.
Getting organized is all about living simpler and making things easier. The bonus is it often leads to saving money.  Lea Schneider's kitchen organizing columns tell you how to organize the many things that relate to kitchens, menus, meals, and special food events.
---
Kitchen Updating and Remodeling:
Welcome to this series on organizing a kitchen remodel.  If you dream of changing your kitchen, follow along on my remodel journey that is nearing completion:
Forward Thinking for Kitchen Updating
I might just be looking more for sympathy than sharing tips.  I've acquired a kitchen that needs a bit of updating.  No, that is not true.  The truth is that I've acquired a kitchen that needs to start over.  I imagine that back in 1953, this was quite the modern kitchen – but not so much today.  With outdated appliances, cabinets, antiquated ventilation, no disposal, limited storage, and old laminate counter tops – I wondered where in the world I start.
Laundry Room Cuisine – Kitchen Remodeling
If you are wondering how you will get by when you tackle your kitchen renovation, I am happy to share a few tips with you.  It is possible to eat delicious, homemade food with a few counter top appliances.
Bringing Kitchen Remodeling Dreams to Life:
       Before – 1953 Kitchen                                                                  After – New Kitchen
Where to Start – Part 1:
Remodeling Begins with Decisions.  The easy part, of choosing your new kitchen is picking the beautiful items, from the wood of the cabinets to counter tops, back splashes and lighting fixtures, and that so called easy part is quite difficult.  The hardest part of your kitchen remodel is deciding what will go where.  Before you head out to look at granite or brush your hand across shiny stainless steel appliances, put pen to paper to figure out what your kitchen really needs.
Conquering Cabinet Choices – Part 2:
Probably the least changeable feature of your kitchen is cabinetry.  You can install a new floor or back splash – but it goes around those existing cabinets.  You can paint, again around the cabinets, or hang new light fixtures, but over the cabinets.  No matter if your kitchen remodel is small or large; cabinets have to be front and center in decision making.  The cost of cabinets will likely weigh heavily in any remodel.  According to HGTV.com, expect your cabinets to be 35 percent of the cost of any remodel.
Sixty-Year Transformation – Part 3:
The actual work on the 1953 kitchen renovation only felt like 60 years to me.  You can imagine how time stretched out when you think of the fun it must be to do dishes while hunched over your bathtub!  In reality, the kitchen renovation took 16 weeks and that included the first 2 to 3 weeks that were spent going back and forth with an architect and visiting vendors who supply everything from appliances to granite to glass.  It also included the last 2 weeks, where we could use the kitchen but were waiting on back splash tile stuck in the horrible winter blizzards of 2014.  So, all in all, the painful portion took 11 weeks, which I am told is amazing timing by others who have had major renovations done.  Not only that, we had Thanksgiving, Christmas, and New Year's holidays where workers, and us, took off from our duties, as we were the paint crew.  All in all, our contractors were amazing!
---
Organizing for Entertaining:
Organizing to Entertain Al Fresco
Entertaining al fresco, which means out in the open, is a great way to enjoy the later part of summer.  Besides firing up the grill, if you organize a few other things, everyone will have a blast.
Organizing A Self-Serve Bar
The holidays sometimes push us into the unfamiliar role of bartender.  While signaling a pleasant activity, it might be something you don't have to handle very often.
Storing Fine China – Store Your Fine China for Ease of Use
If setting the Thanksgiving table was just too much trouble – or if you were relieved that you didn't have to drag out your good dishes – maybe your storage needs tweaking.
Storing Table Linens – Organizing Linens Takes the Wrinkle out of Entertaining
Do not wait for company.  Get your table linens finally organized.  Tips for storing them wrinkle free.
Organizing for Instant Entertaining
Drop-in company can be pretty stressful even if we are delighted to see them.  Be ready for droop-in company and turn it from stress to fun.
Silver Organizing Keeps the Shine
As pretty as silver is, talking about it elicits sighs because somewhere you've got some tarnish lurking about.  Here are some ideas for organizing silver to make life easier.
Kitchen Organizing Ideas:
Change your kitchen along with your hair color
Change your kitchen organization to match the way you live now.
Dealing with Kitchen Downsizing – How To Downsize and Organize Your Kitchen
Moving to a smaller kitchen can be a large task. Downsizing is possible!
Desperate for Cluttered Kitchen Help
My friend's cabinets are so jammed with things that I do not even know where to begin and how to get her organized.  I am clueless for ideas on where to start in for her kitchen.
Eight Kitchen Tools You Don't Want To Do Without
You've probably heard the adage that you should use "right tool for the job."  You might wonder what that has to do with being organized and the answer is a lot.  Plenty of time is wasted and injuries occur when you fumble around trying to make do.
Is your kitchen really too small??
Here are some tips to make the best of that too-small feeling kitchen.
Keeping your resolution to get organized
Keeping your resolution about getting organized is possible.  Learn how here.
Motivation for Organizing: It's not just what you eat but where you eat it
Looking for things all the time?  Here's a health motivation to get organized.
Organizing on a Dime – Creating Order in Your Kitchen is Priceless
Push me in the general direction of an everything-in-here-costs-a-dollar type store and I am happy.  It doesn't need to cost an arm and a leg to get organized. Just a dollar!
Ten next great kitchen organizing tips
Get organizing with this simple method. Learn about the "next-to rule."
How-to Organize Kitchen, Cabinets, and Drawers:
Cleaning Up Clutter Under the Sink
If you ever wondered if you have a deep, dark hole of clutter in your house – you might need to look no further than under the kitchen sink.
Hard-to-use Lower Cabinets – Get ideas for maximizing your space
Maximize the space you have by making the best use of your cabinets.
Ideas for organizing snacks – Stop wasting dollars on stale snacks
Check out these tips to maximize your snack dollars.
Open the Door to More Storage
Where's the wasted space in your crowded kitchen?  I bet it is behind that door!  Check out how to make good use of unused space on the kitchen doors.
Out of Room in the Kitchen – Think Out-Of-The-Kitchen for Storage
You've pulled things out, rearranged, shoved them back in, and you just can't make everything you want fit in that kitchen.  What to do with your too-much-stuff!
Plastic Containers – Those Lids Without Tubs!
Storing and organizing lids and plastic tubs seems to be the frustration of many cooks.  No matter how often you match them up, something seems to go awry!
Sliding Drawers for Lower Cabinets
It's easy to update older cabinets with the addition of drawers.
Small Appliances May Make a Large Mess – Small Appliance Storage
Organizing the small appliances, their attachments, and directions can help you enjoy them rather than be frustrated with parts scattered here and there.
The junk drawer holds everything but junk
An organized junk drawer is worth its weight!  Organize the things you need.
Under the Stove Drawer is Over the Top in Space
You may have a large drawer in your kitchen that you either have forgotten about or just haven't utilized well.  You'll find it under the stove.
Whisk those gadgets into shape
Learn ideas for those hard-to-organize and unusually shaped necessities.
Pantry Ideas:
Avoiding Old Mother Hubbard's Cupboard
Stop reaching into the cupboard or pantry and coming up empty handed.
New Year's resolutions should start in the pantry
The key to keeping some of your New Year's resolutions lies in the pantry.
Pantry Organizations – Managing Your Extra Staples
What is the solution for storing extra condiments and staples?
Pantry Organizations – Stock Up On Staples
No matter if you are a seasoned chef or starting your first apartment, it is great to have a checklist for staple items you should have on hand.
Organize an Emergency Food Pantry:
Get Organized Today for an Emergency Tomorrow – Emergency Food Pantry
Don't wait for disaster! Organize your pantry for an emergency.
Organizing Food in Fridge and Freezer:
Getting ahead with your lettuce – Using fresh bags and green bags
Throwing away produce is like pitching out money.  Learn to make your produce last longer.
Organize my leftovers
Make the most of your food by making the most of your leftovers.
Where's the Beef?  Get yours Organized
Organize the Fridge and Freezer for Safety and Savings
Organize Herbs and Spices:
Some spicy ideas
Great ways to organize your spice cabinet.
You couldn't possibly be outdated. Could you?
You don't have 15-year-old spice – or do you?  Check it out here.
Organize Grocery Shopping:
A Strategy for Battling Your Grocery Budget
Here are some tricks to help you save money on your grocery budget.
Clues for the coupon clipper
Learn how to organize those coupons you always meant to use.
Farmer's Markets – Making the Most of Your Farmers' Market
Heading out to the farm market can be a bit intimidating if you are used to only shopping at the grocery store.  A bit of organization on your part can help you really enjoy the experience.
Online Grocery Shopping – Local Grocery Shopping Online
Your might be just a click away from an extra 4 hours of free time each month.  I am here to report that online grocery shopping is this organizer's dream come true.  It's almost like a miracle!
Organize my hunger pain
Walk in circles in the grocery store?  Learn how to organize your shopping trips.
Organizing for savings
Put organizational skills to work to stretch those grocery shopping dollars.
Kitchen Time Management:
Cool Cooking Tips for Too-Hot-to-Cook Days
When you are looking for ways to cool off on hot days, I know you turn right to organizing.  While you might think that is crazy, there are some great organizing ideas that can help you cool off in the kitchen or at meal times.
For dinner tonight – A plan!
How to develop a plan for feeding the family.
Is cooking dinner at your house like juggling eggs?
Do you keep moving clutter from here to there?  How to focus and finish.
Mise en Place – Begin Cooking with Mise en Place
A cooking time saver – and stress reliever – by lining up your cooking.
No Mess Cooking – A Neat Idea
Of course, if it impossible to end up with a fairly clean kitchen if you start cooking in a messy one. You're just adding mess to mess and it piles higher. So, sad but true, you have to clean up to clean up (even if it isn't your mess!)
Six Mistakes Keeping You Disorganized
If you made a resolution to be more organized in the New Year, you are in good company.  That is one of the top ten New Year's resolutions.  Keeping that resolution becomes a lot easier if you can avoid some of the common organizing mistakes.
Organize Recipes and Menus:
A bride's recipe for disorganization
Organize recipes from the printer – from magazines and from Mom.
Conquering menu madness
Does "What's for dinner," drive you mad?  It's time to get menus that work.
Cooking for two – A baker's dozen of tips
Your really can cook for two and find variety.
For dinner tonight – A plan!
How to develop a plan for feeding the family.
How to Manage Five Easy Nights of Family Meals
I've worked out a great formula for thinking about meals.
Recipe for Organizing Cookbooks
Cookbooks become both a resource and an old friend.  If you have a cookbook collection, as I do, you probably could use a few ideas for organizing them and finding recipes.
Cleaning and Clutter Clearing:
Going green can sometimes mean going crazy
Learn to organize your kitchen to handle recycling without making clutter.
Keeping A Clear Out The Clutter Promise
Promising to clear out the clutter is a common New Year's resolution.  In fact, getting organized is one of the top New Year's resolutions.
Paperwork's anything but a laughing matter
Papers piling up on your kitchen countertop?  Learn how to corral those.
Spring Cleaning – Spring into a Clean Kitchen
There are no oil lamps or coal furnace at my house but the kitchen could use a spring cleaning.  You may wonder if I've fallen off the logic train with that comment.  However, there is certainly a connection.
Four Steps to an Organized Clean
Make a clean break with kitchen grime with an organized cleaning routine.
Got a minute? Ten minutes, one hour and more kitchen organizing ideas
You can get something done no matter how much or how little time you have.
Kids in the Kitchen:
Creating A Child Friendly Kitchen 1
Organize a child-friendly kitchen.  Teach the basic kitchen skills they will need.
Creating A Child Friendly Kitchen 2 (Tips for working with kids in the kitchen)
There tips will help you work with your kids in the kitchen – without going crazy!
Nine more months of lunch packing
Nine months of lunches are easier with a bit of lunch-packing help.
Organization of School Day Breakfast Menus
Try some new techniques to make breakfast smoother and less stressful.
Organize Special Events:
Book Club and Dinner Just Go Together
If you are sitting around and chatting, you'll soon want to be sipping and nibbling.  Books provide lots of opportunities for inspiration and creativity.
Family Reunions – Organizing Family Reunion Meals
Check out these steps that walk you through planning family reunion meals.
Go Team!  Get Organized for a Tailgate Party
Tailgating is fun when someone has organized for the event. It can be a lot of fun and it doesn't have to be a lot of work.
Hot Tips for Organizing Grilling
Getting barbecue supplies organized helps keep the fun in grilling out.
Organizing your buffet supper – Planning ahead creates a great gathering
Organizing your buffet makes the gathering smooth.  Learn good flow tips.
Perfectly planned picnics
Making picnicking easier.  See our checklist to keep in your picnic basket.
Plan a Dinner Party and then Organize your Plan
Hosting a dinner party begins with a spark of an idea.  This kicks off the excitement for any entertaining occasion.  The idea could be as simple as celebrating a Friday night with a relaxing weekend ahead, or it could be a return favor, such as having the boss to dinner.  But no matter how exciting the idea, the next step is putting a pen to paper.
Semi-Homemade Baby Shower is Fun for Hostess and Guests
Have you heard of cooking that is semi-homemade?  That's a great concept.  You can indeed pull-off a party with some homemade foods and some others that are semi-homemade- which means you have added to some prepared things to make them special.  So, don't panic about this menu because it is mostly semi-homemade.  It was organized to fit the shower into a busy work week.
Christmas and Thanksgiving Helpers:
Christmas Holiday Notebook Keeps You Organized Year after Year
Feel confident about holiday cooking by creating a holiday notebook.
Big Meal Doesn't Have To Equal Big Mess
Organizing for Clean-Up Makes for an Easier Holiday
Christmas kitchen secrets of the organized
Suggestions to help you make holiday entertaining look easy.
Organizing Holiday Tablescapes
Beautiful table settings or tablescapes, which combines the words table + landscape, begins with a bit of organization.  Organization and creativity go hand-in-hand.  Nearly every creative project begins with some kind of planning, organizing or gathering.  A beautiful holiday table is no different.
Paper or plastic for holiday organization?
Holidays mean more recipes and groceries!  Turn the kitchen chaos into calm
Prepare for the Holidays – Head Back to Basics in Organizing
With the holidays fast approaching, you could probably use a little help in making your kitchen tidy and getting it organized.  Getting organized in the kitchen means getting down to the basics.
Quick!  Make your kitchen welcoming
Kitchens are a company magnet.  Make yours welcoming with these steps.
Thanksgiving Organizer
Minimize turkey day stress with this checklist.  How to pace out your food chores.
Comments and Reviews