Columns by Doc Lawrence:
This is a collection of "Sips Across America" articles written by our beloved columnist and esteemed journalist Doc Lawrence.
A Feast For My Father
My father remains my hero.  A combat soldier in World War II who still hates war.  A decent guy who did his best to give his family a wonderful life and never thought of expecting anything in return.  But, my dad also enjoys good food, particularly things that are farm fresh, often advising me during my adolescent "know-it-all" days that home grown tomatoes would extend my life. Now, I pray he's right.
A Toast To Mothers – French Chocolate Silk Pie Recipe
My dear departed mother left a trove of priceless memories.  She remains the best self-taught cook I've known – a kitchen magician who could transform things ordinary into a feast for angels.  All moms are special and all things possible begin with them.  Alabama's tough and crusty coaching legend, Bear Bryant, always ended his weekly television show with a command:  "Call your mama!"  He meant each day.   of character. Her favorite hobbies were family and friends.  She loved flowers and chocolate.
April Mean Warm Weather Wines – Hushpuppy Recipe
Trends obviously influence the American palate.  A movie proclaims all domestic Pinot Noir the superior red wine, and by golly, almost on cue it's ordered at restaurants coast to coast.  Years ago, few enthusiasts seemed to express a preference for any red wine, Pinot Noir or otherwise, often gratuitously stating that white wines avoided headaches, allergies and the like.  A Southern Hush Puppy recipe is included.
Celebrating the Red, White and Blue – Blackberry Sauce Recipe
Wine, farm-fresh food, and friendship – A mighty powerful combination for the 4th of July celebration.  Recipe for Blackberry Barbecue Sauce is included.
Chef John Folse – Louisiana Cuisine With Wine – Trout En Papillote Recipe
Chef John Folse is revered as one of the great American chefs from Louisiana.  His eight cookbooks, particularly the monumentalEncyclopedia of Cajun & Creole Cuisine, spread the gospel of indigenous Louisiana cooking to the world.  The PBS mainstay, "A Taste of Louisiana," is Folse's masterfully produced international television series.
Chef Brandon Frohne's Paella Recipe
Recipe by Chef Brandon Frohne, an award winning 4th generation Chef and Winery Chef at the acclaimed Chateau Élan Winery and Resort in Braselton, Ga.
Julia the Great – A Movie and Memories
Her one-liners could be as hilarious as Rodney Dangerfield's.  She was quotable like Mae West and as beloved as Jackie Kennedy Onassis. Julia Child is forever in the American fabric, a California girl who took French cooking into the American kitchen and literally started television cooking.
Light Wines For Gentle Autumn Food – Roasted Pumpkin Bisque with Lavender Marshmallows Recipe
Inspired by the delightful autumn  wines of New Zealand and because autumn is here, I asked Chef Derek Barnes who owns the award-winning Derek's Culinary Casual restaurant in Sarasota, Florida to provide an October recipe that pairs with the white wines of New Zealand.
Sweet Wines For The Holidays
For this special time of year, let's take a stroll down the wine path less traveled, sampling some classic wines that have a prominent place during the holidays.
Tailgating – An All-American Tradition – Mini Muffaletta Recipe
Tailgating is part of our cultural landscape, an open-air culinary ritual inexorably bound to sports and anchored to stadium parking lots and racetrack infields coast to coast.  Where beer once dominated, wine is making inroads, not so surprising when the best known tailgaters include celebrity chefs and wine enthusiasts are joined by some NASCAR legends.
Tailgating – The Football Feast Returns – Shrimp and Grits Recipe
Once dominated by burgers, chicken wings, and beer, tailgating 2011 has a brand new look, sporting nicely decorated tables, flowers, plates of food prepared ahead by great home chefs, and bottles of wines. You can almost feel an appetite coming on thinking about it.
Thanksgiving Wines – Cornbread Stuffing with Fresh Figs, Morels, and Foie Gras Recipe
Enjoying life, friendship, and love is very American.  Thanksgiving is the All-American homecoming, centered on food, wines, family, and friends. And, there's always room at the dinner table for those who are alone.  We open doors and welcome others on Thanksgiving.
Thanksgiving with Fine Wines
The year is winding down and we'll help it go in high style.  Soon, gatherings will become homecomings highlighted by feasts.  Laughter permeates and for a little more than a month we celebrate who we are and find that we are pretty special.  Joy is the prevailing emotion, mercifully shoving problems and disappointments into the background.
Wine, Barbeque and Liberty – The All-American Partnership – Georgia Brunswick Stew Recipe
Thomas Jefferson, author of the Declaration of Independence and one of the most complex and fascinating men this nation has produced, introduced the great wines of Europe to this part of the New World.  It is hard to imagine a celebration at Monticello where the gifted host Mr. Jefferson would be serving barbeque with anything but fine wines from his acclaimed Monticello cellar.
Wine For My Valentine – Chocolate Caramel Amaretto Budino Recipe
Nothing triggers my imagination more than travel, particularly where wine is part of the destination.  Since the beginning of the year, two journeys spurred new visions of wine for the dinner table and the celebration of love on Valentine's Day.  I believe the entire month of February, with the 14th literally the epicenter, should be devoted to honoring romantic love.
Wine On The Half Shell – The Magic Of Oysters And Wine – Oyster Fonseca Recipe
Oysters are for the chosen few.  Not exactly in the mainstream, they do provoke passion.  About as many love them as flee from their sight. Traveling early on to New Orleans where oysters ruled-raw, baked, in stews or soups- was a great leap forward to wines as part of the oyster ritual.
Wine with Thomas Jefferson
The wine cellar at Monticello provides a glimpse into the daily living and dining customs of one of the Founding Fathers.  Thomas Jefferson's cellar and the bottles shelved there make the statement for the ages that this remarkable man was a champion of style and grace who placed entertaining right alongside farming, governing, architecture, and law.  Dining with fine wine was de rigueur wherever he lived.
---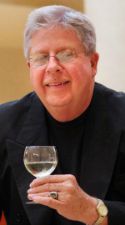 A native of Atlanta, veteran journalist Doc Lawrence enjoys a career in print, online, broadcasting, and television that incorporates his expertise in many areas, primarily food, wine and spirits, travel, and the arts.  His columns are carried in many publications both regional and national.  A former newspaper publisher and editor, Doc travels extensively, writing about and photographing those tidbits of Americana that have potential interest for readers.
Comments and Reviews