Smoked Salmon Tartare makes an easy-to-make appetizer that is so delicious and wonderful looking – It is almost too easy to make!   I recently took it to a wine tasting and it was an immediate hit with everyone and went with all the wines we were tasting.  Give it a try!
This salmons dish looks like a tartare, but by using the smoked salmon there are no raw ingredients to upset any finicky guests.  This tartare can be prepared several hours ahead of time before serving.  This also makes a great sandwich spread.  This makes a great first course to serve at your next dinner party or wine tasting.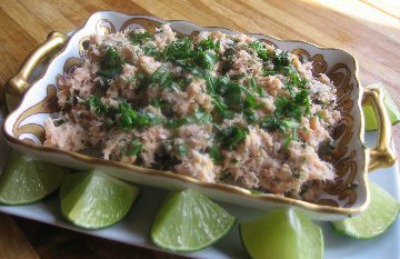 Smoked Salmon Tartare Recipe:
Smoked Salmon Tartare Recipe
Ingredients:
8 ounces purchased or home-smoked salmon*
1 tablespoon extra-virgin olive oil
1 tablespoon small capers, drained
Freshly-squeezed lemon juice to taste
3 tablespoons minced fresh chives, divided
1 tablespoon minced fresh basil leaves, divided
Salt and freshly-ground pepper to taste
Lime wedges
* For directions on smoking some delicious salmon, check out Linda's Smoked Salmon recipe.
Instructions:
Slice the smoked salmon and dice into approximately 1/4-inch pieces.
In a medium bowl, mix salmon pieces, olive oil, capers, and lemon juice. Add 1/2 of the chives and basil; season with salt and pepper.
Mound in an attractive bowl; sprinkle with remaining chives and basil. Garnish with lime wedges.
Serve with your choice of approximately 2 dozen toast points, toasted pumpernickel rounds, sliced and toasted baguette bread, crackers, or crostini.
Serves many.
https://whatscookingamerica.net/Appetizers/SmSalmonTartare.htm
Comments and Reviews