Meat Loaf Muffins Recipe are a hearty main dish that is a comfort food at its finest, with a fresh new look!
I love the fact that these muffins are cooked in muffin tins – that way you can freeze the leftovers easily!  Molding meatloaf into muffin tins yields a perfectly portioned main attraction that even children love as they consider them awesome!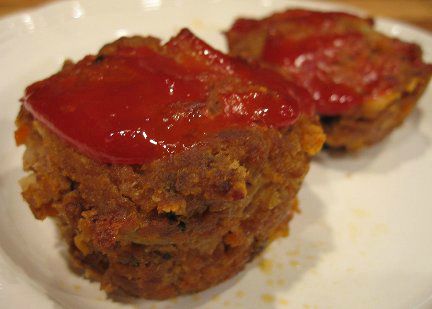 For more great Low Fat Recipes, Low Calorie Recipes, Low Carbohydrate recipes, and Diabetic Recipes, check out my Diet Recipe Index.  Also check out my Nutritional Chart for fat grams, fiber grams, and calories for all your favorite foods.
Check out all of What's Cooking America's Beef Recipes using various cuts of beef.
Diner Meat Loaf Muffins Recipe:
Ingredients:
1 teaspoon olive oil
1 cup finely chopped onion1/2 cup finely-chopped carrot
1 teaspoon dried oregano
2 garlic cloves, minced
1 1/2 pounds extra-lean ground beef (hamburger)
1 cup ketchup, divided
1 cup finely-crushed fat-free saltine crackers (about 20) or fine bread crumbs
2 tablespoons prepared mustard
1 teaspoon Worcestershire sauce
1/4 teaspoon freshly-ground black pepper
Salt to taste
2 large egg whites, lightly beaten
Cooking spray
Instructions:
Preheat oven to 350 degrees F. Heavily spray 12 muffin cups with non-fat cooking spray.
Heat olive oil in a large nonstick skillet over medium-high heat. Add onion, carrot, oregano, and garlic, and saute 2 minutes. Remove from heat and let onion mixture cool.
In a large bowl, combine onion mixture, ground beef, 1/2 cup ketchup, crushed crackers or bread crumbs, mustard, Worcestershire sauce, pepper, salt, and eggs. NOTE: I like to use my hands for mixing meatloaf.
Spoon meat mixture into prepared muffin cups. Top each with 2 teaspoons ketchup.



Bake approximately 25 minutes or until a meat thermometer registers an internal temperature of 160 degrees F. Remove from oven and let stand 5 minutes.
Yield: 6 servings (serving size = 2 muffins).
https://whatscookingamerica.net/Beef/MeatLoafMuffins.htm
Source:  This Diner Meat Loaf Muffins Recipe is from Cooking Light Magazine, March 2006.  I slightly adapted the recipe.
Comments and Reviews