Agua Fresca de Pepino y Calabacin
My daughters came across this unique and very refreshing Cucumber Zucchini Agua Fresca at a local farmer's market this weekend.  This drink really hit the spot while they were standing out in the hot sun.  My grandsons were also fighting over this drink!
I have to say this is a great trick for sneaking zucchini into the kids.  When my daughters recreated this drink at home, they strained out the zucchini pulp and saved the pulp for the kids.  They did not have any idea they were eating veggies!
Maria Ordonez from Bekal Mayan Cuisine and her mother, Maria Del Socorro Guerra from Hillsboro, Oregon, wanted to come up with an Agua Fresca that had less sugar.  They won first place with this recipe in a recent food contest and were kind enough to share the recipe with us.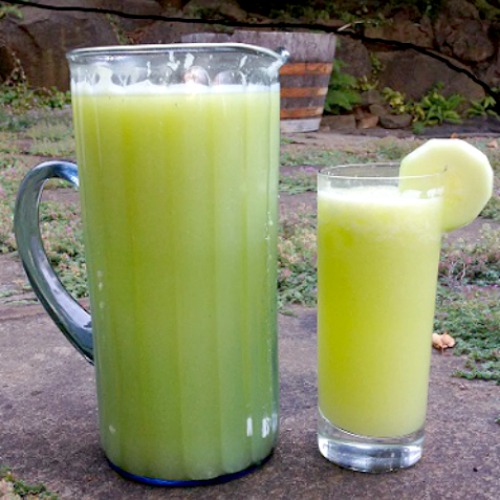 Instructional Video On How To Make Cucumber Zucchini Aqua Fresca
Cucumber Zucchini Agua Fresca Recipe:
Cucumber Zucchini Aqua Fresca Recipe
Ingredients:
1 large cucumber, peeled and cubed
1 medium-size zucchini squash, peeled and cubed
1 lemon, cut in half
Granulated sugar or Simple Syrup to taste (see Simple Syrup recipe below)*
8 to 10 cups water
Ice cubes
* The exact amount of sugar needed will vary depending on your taste. Sugar substitutes may also be used if desired. See below for sugar substitution options.


Sugar Substitutions:
2/3 cup Agave Nectar per 1 cup sugar
1 teaspoon Stevia per 1 cup sugar
1 cup Splenda (24 packets) per 1 cup sugar
Instructions:
Make Simple Syrup (see recipe below).
In a blender or juicer, place equal parts cubed cucumber and zucchini. Squeeze the juice of 1 lemon (be sure to remove the seeds), and 2 to 3 cups of water. Use only enough water in the blender to liquefy the vegetables.
Strain the cucumber/zucchini liquid through a fine sieve or strainer into your pitcher. Save the cucumber/zucchini pulp and add a little sweetener to maker a wonderful treat that has an applesauce consistency! So good.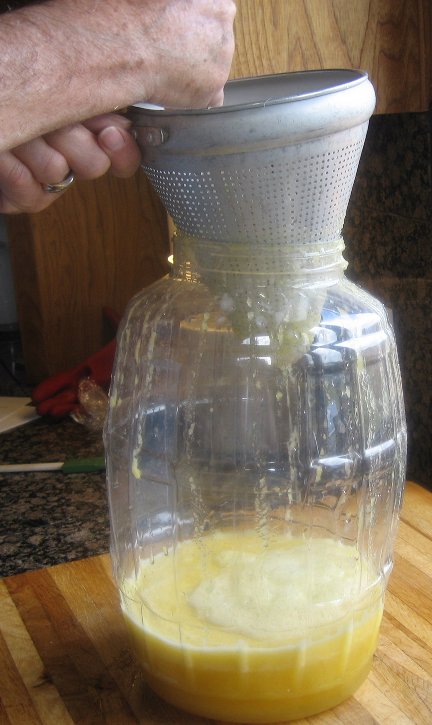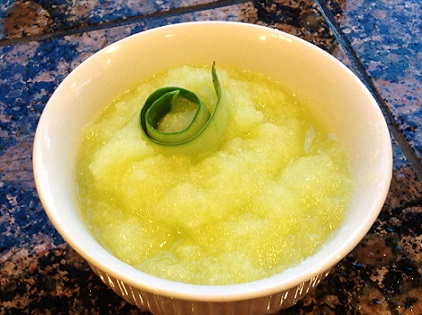 Add the remaining water to your pitcher with the strained liquid and mix well. Add the granulated sugar, simple syrup, or sugar substitution of your choice. Also add additional water if needed.
Chill in the refrigerator for several hours before serving. Serve over ice.
https://whatscookingamerica.net/Beverage/CucumberZucchini-AquaFresca.htm
Medium Simple Syrup Recipe:
What is Simple Syrup?  It is just sugar and water boiled together.  This liquid substance has all the same sweetness of granulated sugar.  It is the secret ingredient to the best cold homemade beverages, cocktails, and other drink recipes.  It is so much easier to swirl in a prepared translucent liquid than it is to add sugar directly, because the granules do not need to dissolve.  Ratio of 2 parts water to 1 part sugar.
To learn more about Simple Syrup, check out Simple Syrup – How To Make Simple Syrup.
1 cup granulated sugar
2 cups cold water
In a high-sided saucepan over medium-high heat, bring cold water and sugar to a boil. Turn the heat to low and stir constantly until the sugar dissolves completely and the mixture is clear, approximately 3 to 5 minutes. Remember – the longer you boil it, the thicker the syrup will be when cooled.
To test if the sugar is completely dissolved:  Using spoon, scoop up a small amount of the syrup. You should not be able to see any sugars crystals in the liquid.  If you do, boil a little longer.
Remove from heat and let cool before using. This syrup mixture will keep for several weeks in the refrigerator.
Agua Fresca Variation Ideas:
Agua de Melon – Use cantaloupe or any other melon.
Agua de Sandie – Use watermelon – Check out Watermelon Aqua Fresca.
Agua de Fresa – Use strawberries – Check out Strawberry Agua Fresca.
Agua de Papaya – Use papaya with the addition of some lime juice
Agua Fresca de Pepino – Use peeled, and seeded cucumbers with the addition of lime juice.
Aqua de Pina – Using pineapple – Check out Mexican Pineapple Water.
Comments and Reviews