Categories:
Cherries
Dessert Recipes
Fruit Pies & Tarts
Sour, Tart or Pie Cherries
This classic old-fashioned Sour Cherry Pie is a favorite of my husband.  Sour Cherry Pie is the perfect combination of sweet and sour.  It is very easy to make and is sure to please your family.  My husband and I used to have a sour cherry orchard on my property before we planted our pinot noir grape vineyard.  We went from farming cherries to making wine.
Shop What's Cooking America – Easy on-line shopping for all your pie baking needs such as pie plates, pie crust shields, wire cooling racks, pie servers, pie cutters/slicers, silicone baking mats, plus Linda's favorite Super-Fast Thermapen Thermometer.
Sour Cherry Pie Recipe:
Best Sour Cherry Pie Recipe
Ingredients:
Pastry for 9-inch two crust pie
1 1/3 cups granulated sugar
4 tablespoons quick-cooking tapioca
6 cups fresh or frozen pitted tart or "pie" cherries
1/4 teaspoon almond extract
2 tablespoons butter or margarine
Vanilla ice cream (optional)
Instructions:
Preheat oven to 400 degrees F. Prepare pie pastry.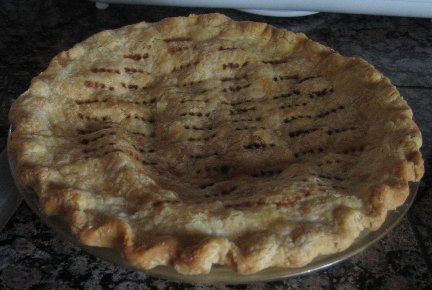 In a large bowl, combine sugar and tapioca. Add cherries; stir until well blended. Pour into pastry-lined plate; sprinkle with almond extract and dot with butter or margarine. Cover with remaining pastry and flute. Cut slits in pastry so steam can escape.
Cover edges of crust with aluminum foil to prevent excessive browning.
Place pie on a baking sheet. Bake approximately 45 to 50 minutes or until the internal temperature registers approximately 175 degrees F. on your cooking thermometer and the crust is golden brown and juice begins to bubble through slits on crust. Remove aluminum foil during last 15 minutes of baking.
Remove from oven and cool on a wire rack before cutting and serving.
Serve warm or at room temperature with or without a scoop of ice cream.
Makes 8 to 10 servings.
https://whatscookingamerica.net/CherryPie.htm
Comments and Reviews