Graham Cracker pie crusts are available in the frozen section at your grocery store, but they are stale, dry, and bland.  A moist, tasty graham cracker pie crust is very easy to make by just following this graham cracker pie crust recipe below.  The perfect pie crust recipe is so simple to make and so delicious that you will never want to purchase one from your grocery store again.  This crust ycan use for baked and no-bake pies, bars, and other desserts.
Check out What's Cooking America's great Pie Recipes.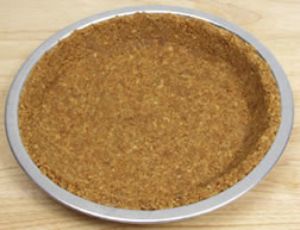 Graham Cracker Pie Crust Recipe:
Graham Cracker Pie Crust Recipe
Ingredients:
1/3 cup melted unsalted butter
1 1/2 cups graham cracker crumbs or 10 to 12 whole graham crackers*
1/4 cup granulated sugar
* If using the whole graham crackers, place them in a re-sealable plastic bag and crust with your rolling pin. Then measure 1 1/2 cups of crumbs.
Instructions:
Preheat oven to 375 degrees F.
In a small saucepan or microwave, melt the butter.
In a medium-sized bowl or a food processor, combine graham crackers, sugar, and melted butter; blend until the texture of coarse meal.
Press graham cracker mixture into a 9- or 10-inch pie pan. Try to make the crust about 1/8 inch (1/3 cm) evenly all around. If the crumb mixture will not stick where you press them, just add another tablespoon of water to the mix. Even the crumbs up and make sure there are no gaps or holes. NOTE: If you chill the crust for an hour before you bake it, this will help prevent crumbling when you want to serve it.
Bake approximately 8 to 10 minutes. The edges may be just slightly browned, but you do not want the edges or crust to over-brown.
Remove from oven and let crust cool, on a wire rack, before filling. TIP: Before serving loosen pie crust from pan; dip bottom in hot water for a few seconds.
Makes 1 graham cracker pie crust.
Variation Ideas:
Use chocolate graham crackers.
Add 1/4 cup nuts (of your choice) to mixture before processing.
Add a little cinnamon, nutmeg, or allspice to the crumbs for a spiced flavor.
Peanut Butter and Graham Cracker Pie Crust - Substitute 1/3 cup smooth or crunchy peanut butter for the butter.
https://whatscookingamerica.net/Desserts/GrahamCrackerPieCrust.htm
Comments and Reviews