Blackberry Cobbler is a must make during blackberry season. When I was young our mothers used to send us out into the field to pick fresh wild blackberries for summer desserts. Blackberry Cobbler was one of my favorites. It is delicious and mouth-watering when you use fresh wild blackberries. Of course you can also use other local-grown blackberries and even frozen blackberries if you want. If I am in a hurry or just a little lazy, I will substitute a buttermilk baking mix, for the biscuit topping in this recipe.
Making my blackberry cobbler is another excuse to get out my favorite cast-iron skillet to make it in. You can use any baking dish or pan that you desire. Using my Mom's old skillet reminds me of my childhood.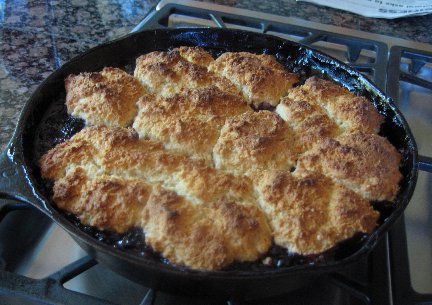 Blackberry Cobbler Recipe:
Blackberry Cobbler Recipe
Ingredients:
6 to 8 cups fresh or frozen blackberries*
1 1/2 cups granulated sugar
1/2 cup all-purpose flour
2 tablespoons fresh-squeezed lemon juice
1 to 2 tablespoons blackberry liqueur, optional
Biscuit Topping (see recipe below)
Vanilla ice cream
* The amount of blackberries used depends on the size of your pan. If using a Cast-Iron Skillet, use 6 cups - a 13x9-inch baking pan, use 8 cups.
Instructions:
Preheat oven to 400 degrees F. Line a baking sheet with aluminum foil (this is to catch the blackberry juice that usually boils over from the baking dish or skillet).
If using fresh blackberries, wash, stem, and drain blackberries.
In a large bowl, combine sugar, flour, blackberries, lemon juice, and blackberry liqueur. Pour into prepared baking dish or skillet.
Prepare Biscuit Topping; set aside until ready to use.
Bake the blackberry cobbler (without the biscuit topping), uncovered, approximately 15 to 20 minutes or until hot and bubbly. When blackberry mixture is hot, remove from oven and spoon the prepared Biscuit Topping mixture onto the top in 10 to 12 large spoonfuls. Return to oven and bake another 20 to 25 minutes or until biscuits are lightly browned and a toothpick inserted in the center of one of the dumplings comes out clean.
Remove from oven and cool on a wire rack for at least 10 minutes before serving. Serve either warm or room temperature. To serve, top with vanilla ice cream.
2 cups all-purpose flour
4 teaspoons baking powder
3 tablespoons granulated sugar
1 teaspoon salt
Zest (peel) of 1 lemon
1/2 cup chilled butter, cut into 1/4-inch pieces
2/3 cup milk
1 egg, slightly beaten
In a large bowl, sift together flour, baking powder, sugar, salt, and lemon zest.
With a pastry blender or two knives, cut in butter until particles are the size of small peas. Add milk and egg; stir with a fork just until blended. Set aside until ready to use.
https://whatscookingamerica.net/Fruit/BlackberryCobbler.htm
Comments and Reviews