This oven-baked Blueberry French Toast is a very easy-to-make delicious breakfast dish that is similar to a bread pudding.  Your family and guests will love this French toast recipe.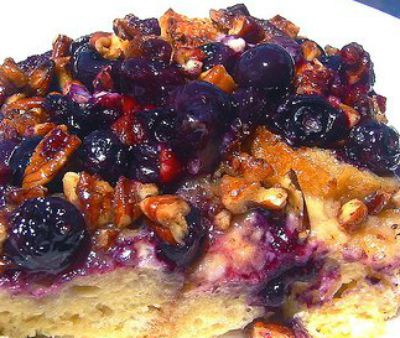 More of Linda's Blueberry Recipes and learn about Blueberry Hints, Tips, and Information.  Also check out my Brunch Recipes for more great brunch ideas.
Blueberry French Toast Recipe:
Blueberry French Toast Recipe
Ingredients:
1 loaf French bread
3 eggs
3 tablespoon granulated sugar
1 teaspoon pure vanilla extract
2 1/4 cups milk
1 cup fresh or frozen blueberries
1/2 cup all-purpose flour
1/3 cup firmly-packed brown sugar
1/2 teaspoon ground cinnamon
1/4 cup cold butter
Blueberries for garnish
Instructions:
Lightly butter a 13x9-inch baking dish.
Diagonally cut bread into 1-inch slices and place slices into prepared baking dish.
In a medium bowl, combine eggs, sugar, and vanilla extract; add milk and stir until blended. Pour mixture over bread slices, turning slices to make sure they are well coated. Cover and refrigerate at least 6 hours or overnight.
Preheat oven to 375 degrees F. Position oven rack in center of the oven.
Remove bread mixture from refrigerator and spread blueberries over the top of the bread.
In a small bowl, combine flour, brown sugar, and cinnamon. With a pastry blender or two knives, cut in butter until particles are the size of small peas. Spread mixture over the top of the blueberries.
Bake approximately 30 to 40 minutes or until golden brown.
Remove from oven, cut into squares, and garnish with additional blueberries.
Makes 6 to 8 Servings.
https://whatscookingamerica.net/Fruit/BlueFrenchToast.htm
Comments and Reviews