Mango Avocado Chicken Salad is a delicious and easy-to-make main-course summer salad that is also light, refreshing, and a symphony of flavors, combining fresh seasonal mangoes with some avocados.  This combination of juicy mangoes with the creaminess of the avocado dance together beautifully.  Mangoes and avocados are definitely two of my favorite fruits.  Here is another way to enjoy fresh mangoes and avocados that makes for a perfect light dinner salad to enjoy!
Everyone that I know always seems to enjoy a chicken salad as they make a perfect light dinner salad to enjoy in spring or early summer.  All you do to make this fabulous Mango Avocado Chicken Salad is to compose each salad plate with shredded chicken, sliced mangoes, and sliced avocados.  You then drizzled some olive oil, balsamic vinegar, and a little sprinkling of chile powder over the top of the salad to add an extra zing that complimented the fresh produce.
This Mango Avocado Chicken Salad is so easy to prepare, especially if you purchase an already prepared rotisserie chicken.  I have to admit, I do usually purchase a rotisserie chicken when making this chicken salad.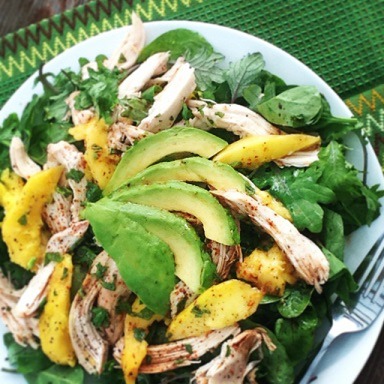 Check out Linda's wonderful Mango Recipes.
Mango Avocado Chicken Salad Recipe:
Mango, Avocado, and Chicken Salad Recipe
Ingredients:
1 large head butter lettuce, wash, dried, and broken into large leaves*
4 cup shredded cooked chicken (about 2 pounds)**
2 large fresh mangos, peeled and sliced into strips
2 avocados, sliced
Coarse salt to taste***
Freshly-ground black pepper or to taste
Chile pepper or Tajin Spice****
Extra-virgin olive oil
Good-quality aged Balsamic Vinegar*****
* You may use a mixture of different types of lettuces, if desired.
** Poached, baked, or barbecued until the center of the chicken is no longer pink and reaches a temperature of 165 degrees F. on your meat thermometer. This is also a great way to use a purchased supermarket rotisserie chicken.
*** This is a great place to use your Fleur de Sel Salt
**** Tajin Spice (salsa en polvo in Spanish) is a ground red chile pepper, salt, and lime seasoning. In Mexico this is very popular to sprinkle on fresh fruit as melons and vegetables like cucumbers. This spice can be purchased at Hispanic food markets. Some grocery stores may carry in the Latin America food section or you can purchase Tajin Spice online.
***** To purchase good-quality balsamic vinegars, check out What's Cooking America's Gourmet Food Store.
Instructions:
Place salad leaves onto individual dinner plates or salad plates. Compose each salad plate with shredded chicken, sliced mangos, and sliced avocados.
Sprinkle each salad with salt, freshly-ground black pepper, and chile powder or Tajin Spice to taste.
Just before serving, drizzle on some extra-virgin olive oil and some balsamic vinegar.
Serve immediately and enjoy!
Makes 4 servings.
https://whatscookingamerica.net/Fruit/Mango-Chicken-Avocado-Salad.htm
Comments and Reviews