Chilled Plum Wine Soup is a delicious and versatile summer soup that will make you famous with your family and friends!  
A refreshing way to either start or end your summer meal.  Chilled Plum Wine Soup is great served with brunch, a light summer lunch, or as part of a summer evening meal.  In fact, it is fantastic any time you want to serve it.  Your guests and family will be pleasantly surprised and delighted.
This wonderful plum soup recipe was shared with by my friend Kris Brennan of Clackamas, Oregon.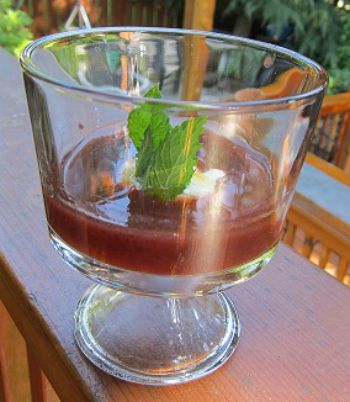 Chilled Plum Wine Soup Recipe:
Chilled Plum Wine Soup Recipe
Ingredients:
3 pounds fresh ripe red or purple plums, pitted and quartered (do not peel)
Pinot Noir wine*
1 teaspoon ground cloves or to taste
Agave Nectar or granulated sugar to taste
Grand Marnier liqueur
Greek plain or vanilla yogurt
Mint sprigs (for garnish)
* Any fruity red wine, of your choice, may be substituted.
Instructions:
In a large heavy saucepan, add prepared plums. Pour in enough pinot noir wine to just cover the plums. Add ground cloves. Bring just to a boil; reduced heat to low and simmer approximately 10 to 15 minutes or until plums are very tender. Remove from heat and let cool.
Transfer the mixture (plums and wine mixture) to a blender or food processor and puree until smooth. Taste and add either Agave or granulated sugar to taste (just a little will do it).
Cover and refrigerate at least 45 minutes or until ready to serve. Soup will keep, covered, for 2 to 3 days.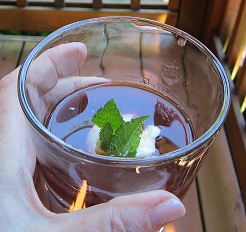 To serve, pour approximately 1/4 to 1/2 cup of the chilled Plum Soup into small individual goblets, wine glasses, pretty dessert bowls, or attractive dessert cups.
Pour approximately 1 teaspoon of Grand Marnier over the top of each individual soup. Top with a dollop of yogurt and a mint sprig.
Makes approximately 6 to 8 servings (depending on serving size).
https://whatscookingamerica.net/Fruit/PlumWineSoup.htm
Comments and Reviews