Spiedie Sandwich (SPEE-dee) – If you find folks who know of spiedies, they are most likely originally from Binghamton in Broome County, New York, or they know someone who is.  Broome County is in New York's Southern Tier, southeast of the Finger Lakes and just north of Pennsylvania.
People who live in the area eat them at restaurants, from street vendors, buy from supermarkets, and even make their own at backyard cookouts.  Spiedies have been completely integrated into the food culture of the region, and natives who have moved away from the area have been known to have commercial spiedie sauce shipped, by the case, to their new homes.
History of Spiedies, Spiedie Sandwich:
The name comes from the Italian spiedo meaning kitchen cooking spit.  Originally made from lamb, they are now made with virtually any meat.  It is chunks of lamb, pork, chicken, beef, or venison that has been marinated for days in a tart sauce and then grilled on a metal skewer, usually over charcoal or gas.  The traditional way of serving is between sliced Italian bread with extra sauce poured on top.  The Spiedie, skewer and all, is then inserted in sliced Italian bread.  The bread is used as a sort of mitt, wrapping around the meat.  Pull out the skew and you then have a wonderful and delicious hot sandwich.
An annual three-day community gathering is held featuring hot air balloons, live music, and hundreds of varieties of spiedies cooked and sold by countless vendors.  The weekend of entertainment and fun always concludes with the Spiedie Cook-Off on Sunday.
They originated with Binghamtons Italian immigrant population in the 1920s.  Augustine Iacovelli from Endicott, New York is believed to have popularized the Spiedie by introducing them in his restaurant, called Augies, in 1939.  The original sauce, which he called Zuzu, was wine vinegar, water, lemon juice, garlic and mint. His spiedies caught on so well among the local railroad workers and shoemakers that for years every little corner grocery had a spiedie stand on the street in front of it.
A tray of spiedies from Sharkey's at Binghamton, NY
Photo credit: Tony Cenicola – New York Times
Spiedie Sandwich Recipe – How To Make A Spiedie Sandwich:

Spiedie Sandwich History and Recipe
Ingredients:
2 pounds meat (chicken, lamb, pork or beef), cut into 1 1/2-inch cubes*
1 cup extra-virgin olive oil
1/4 cup freshly-squeezed lemon juice
3/4 cup red wine vinegar
2 tablespoons granulated sugar
4 cloves garlic, minced
1 bay leaf
1/4 teaspoon red (cayenne) pepper
1 1/2 teaspoons dried thyme
1 1/2 teaspoons dried basil
1 1/2 teaspoons dried oregano
1/2 teaspoon salt
1/2 teaspoon coarsely-ground pepper
1 loaf Italian or French bread, thickly sliced
Metal Skewers
* Use boneless and skinless chicken breasts, pork tenderloin, top round steak, or leg of lamb.
Instructions:
In a large bowl, combine olive oil, lemon juice, vinegar, and sugar. Add garlic, bay leaf, red pepper, thyme, basil, oregano, salt and pepper; stir until well blended.
Place prepared meat in a large re-sealable plastic bag set into a shallow dish. Pour marinade mixture over meat and close bag. Marinate in the refrigerator for a least 24 hours and up to 3 days; turn bag occasionally to distribute marinade. Remove meat from refrigerator and let stand in marinade at room temperature for 2 hour; drain, reserving marinade.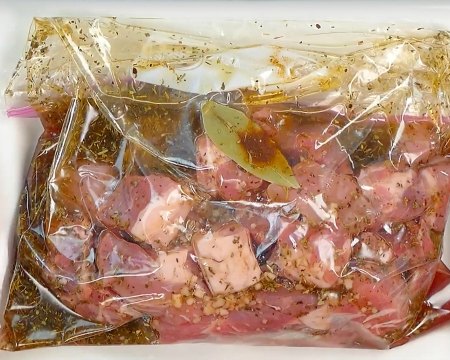 Preheat barbecue grill.
Thread 4 to 5 cubes of meat onto each metal skewer. Place onto the prepared hot grill and cook approximately 8 to 10 minutes or until done to your preference, basting with reserved marinade. Remove from grill and serve immediately.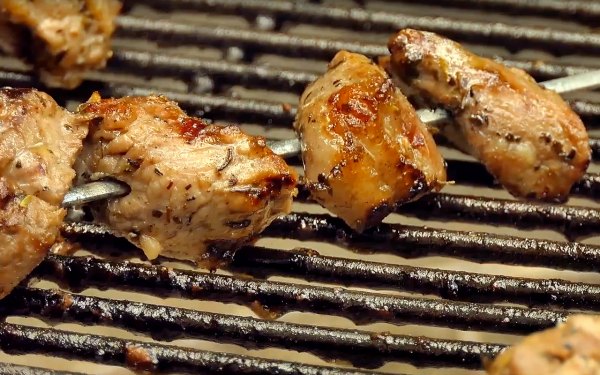 To serve, fold the bread over the contents of the skewer and pull the skewer out, leaving the meat sandwiched within the bread.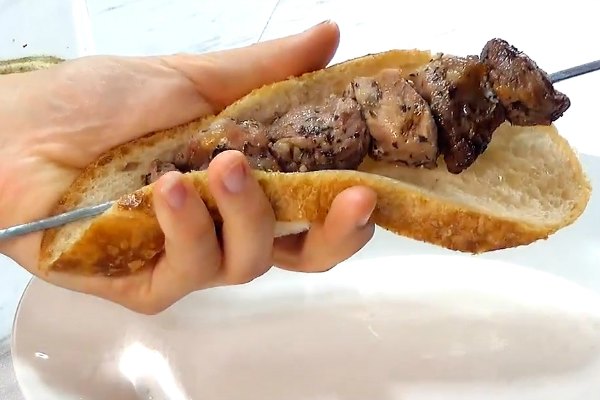 Makes 6 servings.
https://whatscookingamerica.net/History/Sandwiches/Spiedie.htm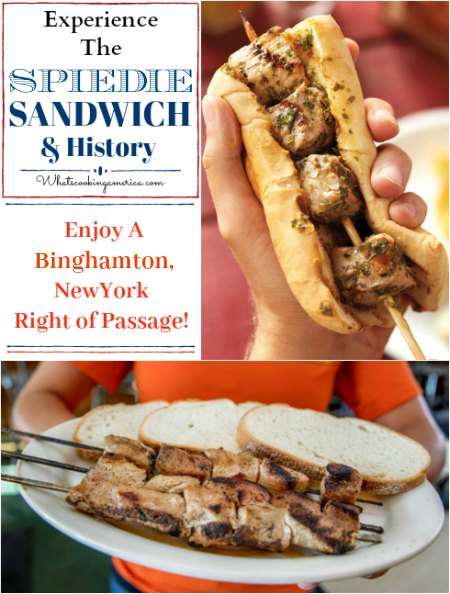 ---

Comments from Readers:
I was just introduced to your website recently and stumbled across the Spiedie history and recipe.  A number of years ago (about 30 or there about) I was on a business trip to Endicott, New York and was told of these wonderful sandwich delicacies that were indigenous to that area.  My traveling partner raved about the time he spent there at IBM and the lunch items available in the local facilities.  I was in a state of wild anticipation of our arrival and the opportunity to sample the fare.  As it turned out, we LIVED on Spiedies for the entire time we were there.  The only respite was breakfast which consisted of coffee and a Danish at the hotel.  We had beer and Spiedies for every other meal for four days.  What a wild adventure! When I returned home, I brought a case of Spiedie sauce with me.  The folks that I worked with from the New York area around Binghamton bought the sauce and had us all over for their versions of the sandwich.  Great times.  Thanks for the trip down memory lane. – Bob Devon, Lake Elsinore
I was just reading through your explanation of Spiedies and noticed you mention an annual "Spiedie Cook-Off with a recipe contest."  I'd just like to pass along that it is a bit more than that these days, it is 3 days of community gathering, hot air balloons, live music, and hundreds of varieties of spiedies cooked and sold by countless vendors.  The weekend of entertainment and fun always concludes with the Spiedie Cook-Off on Sunday.  Last year's event drew between 100,000-120,000 people and will be held again this weekend (annually the first weekend of August).  Despite the fact that it originated from Italian families of Binghamton and Endicott, and that every local ethnicity seems to have put its signature on it in some form, and that the Spiedies have adapted to popular tastes… i.e.  Buffalo Chicken Spiedies (like chicken wing sauce), Blue Cheese Spiedies, Philly Cheese Spiedies etc. . . just some of the more popular varieties at local restaurants.  The Lupo family seems to be the dominate commercial spiedie people with two groups of the family owning two separate competing restaurant chains – The Lupo's Charpits and Spiedie & Rib Pits.  Commercially, Spiedie Sauce from local companies can be found on shelves of Wegman's, Giant, A&P, and Price Chopper Supermarkets over much of the Mid-Atlantic states now.
Comments and Reviews