This fish tacos recipe is delicious!  I especially love the Mango Tomato Salsa. The white sauce tossed with the cabbage is also very tasty.
What exactly are fish taco?  Well, by the broadest definitions, it is a handheld and folded unleavened flat bread encasing some edible fish with some topping.  That is what these delicious fish tacos are.
This delicious recipe, comments, and photo were shared with my by Karen Calanchini, Food Stylist and Photographer, of Redding, CA.  Recipe was originally from the CBS Early Show on May 10, 2010.
More great Southwest-Style Recipes.  Read about the History of Tortillas and Tacos.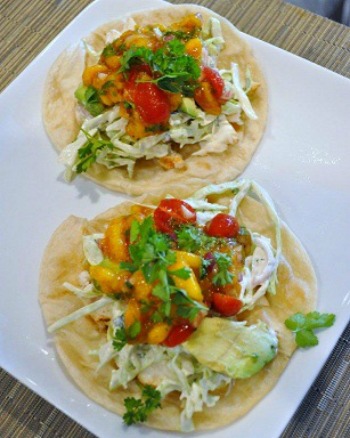 Fish Taco Recipe:
Ingredients:
Rene's Husband's Mango Salsa (see recipe below)
White Sauce (see recipe below)
4 Tilapia filets*
Lemon
Lime
2 tablespoons grape seed oil
8 corn tortillas**
1/2 cup chopped cabbage
1 avocados, peeled, seeded, and sliced
Hot sauce, optional
* Halibut filets may be substituted.
** You may use purchased corn tortillas, but you can also learn How To Make Corn Tortillas.
Instructions:
Prepare Rene's Husband's Mango Salsa and the White Sauce. Refrigerate until ready to serve.
Rinse the Tilapia filets and pat dry. Cut the filets into 1/2-inch strips. Place in a glass dish and squeezed lemon and lime over the fish. Let marinate for 5 minutes.
In a large non-stick frying pan over high heat, heat 2 tablespoons grape seed oil. Add the prepared Tilapia filets and cook approximately 3 minutes or until firm. Cooking time depends on the thickness of the fillets. A thin fillet may take only one minute on each side to cook. A thicker fillet may take a couple of minutes. Fish should be still barely translucent when cooked. Once cooked, remove from pan and set the cooked fish on paper towels. NOTE: You can also grill the whole filets and once cooked, cut into strips.
Either spray or brush vegetable oil on both sides of the corn tortillas. Place the tortillas on the prepared baking sheet and place in the oven for just a few minutes, until they soften and become heated through.
On the warm tortillas, place cooked fish, White Sauce, cabbage, Mango Salsa, and avocado slices. You may also add add sauce, if desired. NOTE: I added the White Sauce to the cabbage and mixed well.
Serves many.
Rene's Husband's Mango Salsa Recipe:
5 Roma tomatoes, seeded, and cut into 1/4-inch pieces
2 mangos, peeled, seeded, diced into 1/4-inch pieces
1 medium red onion, diced
1 tablespoon chipotle powder
1 tablespoon olive oil
1 tablespoon freshly-squeezed lemon juice
Dash salt and pepper
In a large bowl, mix together the tomatoes pieces, mango pieces, diced onion, chipotle powder, olive oil, lemon juice, salt, and pepper.
Refrigerate until ready to serve. For best flavor, refrigerate for a couple of hours before serving.
White Sauce Recipe:
1/2 cup mayonnaise
1/2 cup sour cream
1/2 packet Old El Paso Taco Seasoning*
1/4 cup chopped cilantro leaves
* I substituted Penzey's Bold Taco Seasoning.
In a bowl, combine mayonnaise, sour cream, El Paso Seasoning, and cilantro leaves. Refrigerate until ready to serve.
https://whatscookingamerica.net/KarenCalanchini/FishTacos.htm
Comments and Reviews