The Asian flavors in this Grilled Pork Tenderloin with Plum Sauce makes a very flavorful and delicious dinner experience.  Excellent served with Creamy Brussels Sprouts with Lemon, Perfect Baked Potatoes, and homemade applesauce.  Add a little Creme Fraiche to your baked potato for a special treat.
This delicious Grilled Pork Tenderloin with Plum Sauce Recipe, comments, and photos were shared with me by Karen Calanchini, Food Stylist and Photographer, of Redding, CA.
More great Pork Recipes.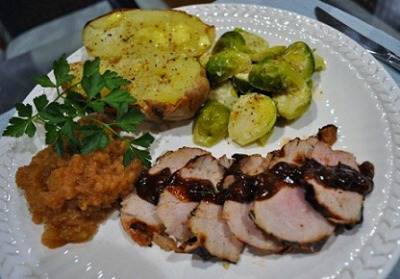 Grilled Pork Tenderloin with Plum Sauce Recipe:
Grilled Pork Tenderloin with Plum Sauce Recipe
Ingredients:
1 (1-pound) pork tenderloin roast*
1/2 cup Plum Sauce**
1/4 cup sliced green onions
1/4 cup soy sauce
2 tablespoons seasoned rice vinegar
4 large garlic cloves, diced
2 teaspoons hot Chili Garlic Sauce**
* Pork Tenderloin comes in a sealed package with two small tenderloins, about 1 pound each. I like to cook one and seal the other to freeze for a quick dinner on another night.
** Plum Sauce and Hot Chili Garlic Sauce are found in the Asian section of your grocery store.
Instructions:
In a large zippered or resealable plastic bag, combine Plum Sauce, green onions, soy sauce, rice vinegar, garlic, and Chili Garlic Sauce. Add the pork tenderloin and seal the plastic bag. Rub the marinade well into the pork; refrigerate overnight.
When ready to cook, prepare your barbecue grill.
https://whatscookingamerica.net/KarenCalanchini/GrilledPorkTenderloin.htm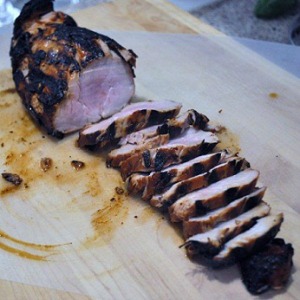 Grill the pork tenderloin over direct heat approximately 6 minutes per side until a meat thermometer inserted into thickest part of the roast registers an internal temperature of 140 degrees F. to 145 degrees F.
When the pork tenderloin is done to you liking, remove from the grill and transfer onto a cutting board; tent with aluminum foil and let roast stand 6 minutes before carving (meat temperature will rise 5 to 10 degrees after it is removed from the grill).
Transfer onto a serving platter and serve with the thickened marinade over the top or on the side.
Comments and Reviews