This very quick and easy Tex-Mex Taco Bowls recipe is very easy to put together, plus a quick and healthy meal, for your family on hot summer days.  These are so much better than those served in restaurants.
They are so easy to make that you could even let your children help make the them and also assemble their own taco salads by just placing the ingredients on individual plates or bowls – children will love assembling their own salads.  Everyone, from adults to children, seem to enjoy preparing and eating these edible homemade taco bowls with the delicious Tex-Mex Salads.
Tex-Mex Salad Taco Bowls recipe and photos were shared with me by Karen Calanchini, Food Stylist and Photographer, of Redding, CA.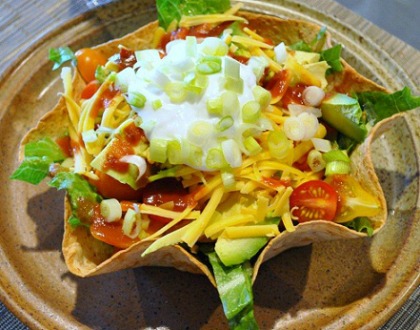 More wonderful Southwest and Tex-Mex Recipes.
Tex-Mex Salad Taco Bowls Recipe:
TTex-Mex Salad Taco Bowls Recipe
Ingredients:
2 large wheat flour tortilla shells (I buy fat-free or low carb shells)
2 boneless and skinless chicken breasts
Vegetable oil
Cumin
Garlic Powder
Salt
Cayenne Pepper
Refried Bean Filling (see recipe below)
Additional Fillings (see below)
Instructions:
Preheat oven to 275 degrees F.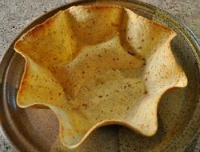 How To Make Tortilla Bowls: Place flour tortillas into Tortilla Bowl Makers or oven-safe bowls (that will hold the tortillas), sprayed with non-stick spray. Lightly spray the exposed side of the flour tortilla. Bake in preheated 325 degrees F. oven for 10 minutes or until the tortilla starts to puff and turn golden. Remove from oven, let cool slightly, and place on individual serving plates.
Brush chicken breasts lightly with vegetable oil; season with cumin, garlic powder, salt, and a small sprinkle of cayenne pepper.
Preheat barbecue grill (spray grill with vegetable-oil cooking spray). Place chicken onto hot grill. Cover barbecue with lid, open any vents, and cook 20 to 30 minutes or until a meat thermometer registers an internal temperature of 165 degrees F (juices will run clear when cut with the tip of a knife). Remove to a plate and cover with aluminum foil for approximately 10 minutes. Slice each chicken breast into slices and then cut into bit-size pieces; set aside.

This is the type of cooking and meat thermometer that I prefer and use in my cooking. I get many readers asking what cooking/meat thermometer that I prefer and use in my cooking and baking. I, personally, use the Thermapen Thermometer shown in the photo on the right. T o learn more about this excellent thermometer and to also purchase one (if you desire), just click on the underlined: Thermapen Thermometer
When ready to assemble - See additional fillings and optional fillings below:
Place a layer of refried beans on the bottom of each prepared taco shell bowls. Then place a layer of shredded Iceberg lettuce. Place a layer of grilled chicken pieces on top of the lettuce. Top with chopped tomatoes, chopped cucumbers, avocado slices, and sprinkle shredded cheese over the top. Add some taco sauce and some non-fat sour cream over the top. NOTE: Add any Optional Fillings that you desire.
NOTE: Depending on how full you want your taco bowl salads, you may have some grilled chicken and refried beans left over. This will make a nice filling for a lunch burrito the next day.
Makes 2 servings.
Refried Bean Filling Recipe:
1 tablespoon olive oil
1 small red onion, chopped
2 large garlic cloves, peeled and diced
1/4 teaspoon red pepper flakes
1/4 teaspoon salt
Few grinds of freshly-ground pepper or to taste
1/4 teaspoon oregano (rubbed between your hands)
2 roasted, peeled, and seeded Hatch Chile Peppers, chopped*
1 (8-ounce) can non-fat refried beans (I prefer Ortega)
1/4 cup taco sauce (your favorite)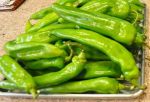 * Hatch Chiles are available during the latter part of August to early September. In place of the Hatch chile peppers, canned whole fire-roasted green chile peppers (chopped) or fresh Anaheim chile peppers (roasted, seeded, and chopped) may be used.
In a small saucepan over medium-low heat, heat the olive oil. Add onions and saue tuntil soft. Add garlic and continue sauteeing until they are fragrant. Reduce heat to low and add the red pepper flakes, salt, pepper, and oregano; cook and stir until you can smell the oregano.
Reduce heat to very low and add chile peppers, refried beans, and taco sauce. Cook approximately 15 minutes to warm all the ingredients. Taste and adjust seasonings to your taste. This can be made in the morning and put into the refrigerator. Gently reheat prior to assembling the dish.
https://whatscookingamerica.net/KarenCalanchini/TexMexTacoBowls.htm
Additional Fillings:
Iceberg lettuce, shredded
Fresh tomatoes, chopped into bite-sized pieces
Cucumber, chopped
Avocado slices
Freshly-grated sharp cheddar or Monterey Jack Cheese (or a combination of both)
Taco sauce (of your choice)
Non-fat sour cream
Optional Taco Bowls Filling:
Sliced black olives
Raw chopped onion
Sliced green onions
Pickled jalapeno chile peppers (the sliced ones in a jar)
Different kinds of cheeses may be used
Comments and Reviews