This delicious Mrs Wrights Beer Bread Recipe is easy to make and requires only five simple ingredients.  Low in fat and rich in taste, this beer bread utilizes beer as a leavening agent (a popular ingredient in colonial bread making).  This is a very simple and tasty bread that is sure to please everyone you sere it to.  To make a delicately flavored loaf of bread, use a light beer.  For a dark, heavier taste, try using a bottle of ale.
Mrs Wrights Beer Bread Recipe is courtesy of Kelly Wright from her new book, The Benjamin Franklin Diet.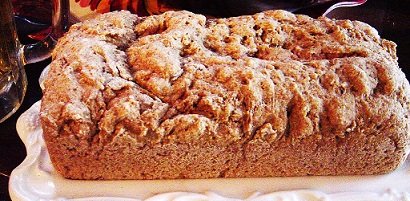 Mrs Wrights Beer Bread Recipe:
Mrs Wrights Beer Bread Recipe
Ingredients:
3 cups whole wheat flour
1/4 cup raw or brown sugar
1 tablespoon baking powder
1 teaspoon sea salt or coarse salt
1 (12-ounce) bottle of beer or ale*
* You can also use non-alcoholic beer, if you wish.
Instructions:
Preheat oven to 375 degrees F. Adjust oven rack to lower middle position. Grease one (1) 9x5-inch loaf pan (grease bottom only of regular loaf pan or grease and flour bottom and sides on a non-stick loaf pan).
In a large bowl, combine flour, sugar, baking powder and salt; stir until blended.
Slowly pour in the beer or ale and stir until you have a sticky dough.
Spoon dough into the prepared loaf pan.
Bake approximately 35 to 40 minutes or until a toothpick inserted in the center comes out clean. NOTE: Be sure and poke the toothpick already to the center of the loaf. A good check is to use an instant digital thermometer to test your bread. The temperature of the bread should be at 200 degrees F. when done.

This is the type of cooking and meat thermometer that I prefer and use in my cooking. I get many readers asking what cooking/meat thermometer that I prefer and use in my cooking and baking. I, personally, use the Thermapen Thermometer shown in the photo on the right. Originally designed for professional users, the Super-Fast Thermapen Thermometer is used by chefs all over the world.
Remove from oven and cool on a wire rack 10 minutes; remove from pan.
Serve warm.
Makes 1 loaf.
https://whatscookingamerica.net/KellyWright/MrsWright-BeerBread.htm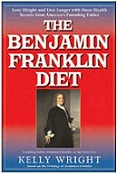 The Benjamin Franklin Diet: Lose Weight and Live Longer with These Health Secrets from America's Founding Father Based on the Writings of Benjamin Franklin.
In The Benjamin Franklin Diet, author Kelly Wright details Franklin's lifetime and diet principles.  Recipes for his favorite foods are followed by sample meal plans, and the Appendix contains seventy-five recipes from Thomas Tryon's 1691 book, reputed to be the first vegetarian cookbook ever written.
Kelly Wright is the author of 14 published books covering a wide variety of topics.  She has appeared as a guest on television shows and has written for magazines and newspapers.
Comments and Reviews