If you want to impress guests, this Mango Salad with Grilled Shrimp Recipe is the dish to make!
This wonderful tasting grilled shrimp salad is so easy to make and looks beautiful also!  This is a definite make-again dish.  This makes an excellent starter course, and is equally great as a light luncheon dish.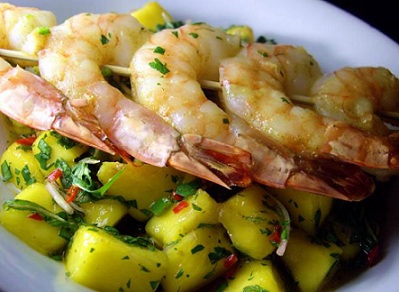 Mango Salad with Grilled Shrimp Recipe:
Mango Salad With Grilled Shrimp Recipe
Ingredients:
2 tablespoons packed dark brown sugar
2 tablespoons fresh-squeezed lime juice
1 (4-inch-long) fresh hot red chile peppers, thinly sliced, including seeds
1 medium shallot, thinly sliced
1/4 cup chopped fresh cilantro leaves
2 tablespoons chopped fresh mint leaves
2 firm-ripe mangoes, pitted, peeled, and thinly sliced
Grilled Shrimp (see recipe below)
Lime wedges
Instructions:
Make mango salad by whisking together brown sugar and lime juice in a large bowl until sugar is dissolved. Then whisk in red chile peppers, shallot, cilantro, and mint. Add mangoes, tossing gently; cover and set aside until ready to serve.
Preheat barbecue grill. Grill prepared shrimp on hot grill, turning occasionally, until lightly charred and just cooked through, about 3 to 4 minutes. Remove from grill to a plate.
NOTE: Shrimp should always be cooked quickly in order to preserve their sweet, delicate flavors. They are very quick to cook, and the flavor can easily be ruined by overcooking. Most shrimp cook in as little as 3 minutes - when they curl and turn pink, they are done. Properly cooked shrimp are firm with a gentle curve shape (like the letter "C").
Toss mango salad again and divide among 4 individual serving plates. Arrange 4 cooked shrimp on top of each serving.
Place a lime wedge on the plate and serve.
Makes 4 (first course) servings.
Grilled Shrimp:
16 jumbo uncooked shrimp (1 1/4 pounds)
2 tablespoons vegetable oil
1 medium fresh jalape chile peppers, minced, including seeds
2 teaspoons ground cumin
1/2 teaspoon coarse salt or sea salt
Peel and devein the shrimp, leaving the tails on. Beginning at thick end, insert a skewer lengthwise through each shrimp to straighten. Transfer to a tray.
In a bowl, whisk together vegetable oil, jalapeno chile pepper, cumin, and salt; brush over the skewered shrimp until well coated. You are now ready to grill.
https://whatscookingamerica.net/MangoSaladShrimp.htm
Sources:  This recipe is from the Mnemba Island Lodge off the north coast of Zanzibar and was featured in the May 2001 issues of Gourmet Magazine.  Photo by Amanda In Oz of Food.com.
Comments and Reviews