My husband loves this classic Italian Pork Chops Braised in Milk.  He is a gravy lover and this recipe makes its own rich tasting gravy as it cooks.  This pork dish would be excellent served with mashed potatoes.  My husband also loves his Mom's recipe for
Biscuits and Gravy
!  More great
Pork Recipes
.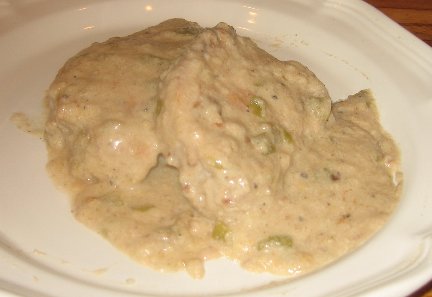 For more great Low Fat Recipes, Low Calorie Recipes, Low Carbohydrate recipes, and Diabetic Recipes, check out my Diet Recipe Index.  Also check out my Nutritional Chart for fat grams, fiber grams, and calories for all your favorite foods.
Pork Chops Braised in Milk Recipe:
Pork Chops Braised in Milk Recipe
Ingredients:
4 pork loin or rib chops (1/2-inch thick)
2 tablespoons all-purpose flour
1/2 teaspoon salt
1/4 to 1/2 teaspoon pepper
1 1/2 cups non-fat, skim milk or whole milk (your choice), divided
2 teaspoons butter
Instructions:
Trim fat from pork chops.
Combine flour, salt, and pepper in a large resealable plastic bag; add pork chops, seal bag, and shake to coat with flour mixture. Remove pork chops from bag and set aside.
Place the remaining flour mixture into a small bowl. Gradually add 1/2 cup milk, stirring until well blended with a wire whisk; set aside.
In a large frying pan over medium-high heat, melt butter. Add floured pork chops and cook 3 minutes on each side or until browned.
Add prepared milk mixture, cover, reduce heat to low, and cook 15 minutes, stirring occasionally. Turn the pork chops over. Add remaining 1 cup milk; cover and cook an additional 15 minutes, stirring occasionally.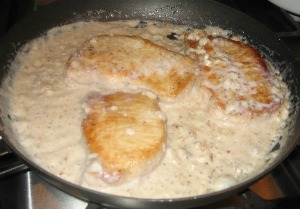 Uncover frying pan and cook pork chops approximately 15 minutes longer or until the liquid is reduced to 1/4 cup (the gravy will be very thick - if too thick, additional milk can be added) or until the internal temperature reaches 155 degree F. on a meat thermometer. Remove from heat, spoon gravy over pork chops, and serve.

This is the type of cooking and meat thermometer that I prefer and use in my cooking. I get many readers asking what cooking/meat thermometer that I prefer and use in my cooking and baking. I, personally, use the Thermapen Thermometer shown in the photo on the right. Originally designed for professional users, the Super-Fast Thermapen Thermometer is used by chefs all over the world. To learn more about this excellent thermometer and to also purchase one (if you desire), just click on the underlined: Thermapen Thermometer.
NOTE: I added some canned diced green chile peppers to the gravy for an extra zip.
Makes 4 servings.
Each Serving Totals - 4.6 Fat Grams, 223 calories, 3.6 WW Points
https://whatscookingamerica.net/Pork/PorkChopMilk.htm
Comments and Reviews