Lemon Chicken has always been a dish that men seem to love.  The lemon flavor has a very addictive zing, and the lemon juice brightens the flavor of chicken and gives a distinctive light zesty taste.  Not only is the flavor great, but the lemon acts as a meat tenderizer.  The acid in the lemon works to break down the structure of the meat which results in a very tender dish.
This lemon chicken recipe is a great as a cold dish as well.  It makes a wonderful picnic meal.  This chicken recipe has become a very popular chicken dish with everyone I have given this recipe to.  This recipe is one of our most popular main dish chicken recipes.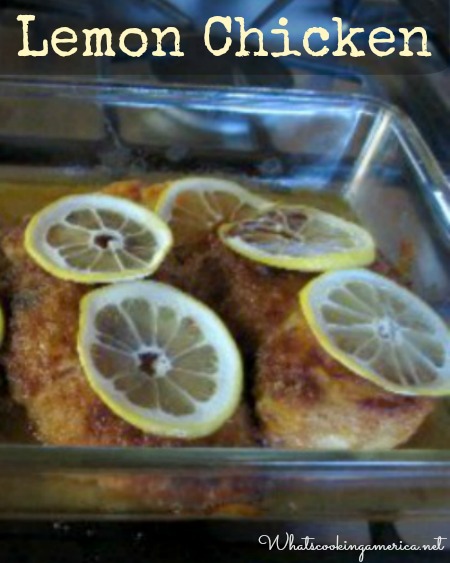 Lemon Chicken Recipe:
Ingredients:
2 chickens (2 to 2 pounds each), cut into quarters*
2 cups fresh-squeezed lemon juice (about 10 lemons)
2 cups all-purpose flour
2 teaspoons coarse salt or sea salt
2 teaspoons Hungarian sweet paprika
1 teaspoon freshly-ground black pepper
1 cup vegetable or corn oil
1/4 cup firmly-packed brown sugar
1/4 cup chicken stock
2 lemons, sliced paper thin
* I have also substitute boneless chicken breasts in this recipe. Adjust cooking time to approximately 20 minutes.
NOTE: The U.S. Department of Agriculture, as well as food agencies in the United Kingdom and elsewhere, advises against washing poultry. Rinsing chicken will not remove or kill much bacteria, and the splashing of water around the sink can spread the bacteria found in raw chicken. Cooking poultry to 165 degrees Fahrenheit effectively destroys the most common culprits behind food-borne illness.
Instructions:
In a bowl or resealable plastic bag, combine chicken pieces and lemon juice. Cover and marinate in the refrigerator overnight, turning occasionally.
Preheat oven to 350 degrees F.
Drain chicken thoroughly and pat dry. Fill a plastic bag with flour, salt, paprika, and pepper; shake well to mix. Put two (2) pieces of chicken into the bag at a time and shake, coating completely.
Heat vegetable or corn oil in large frying pan or cast-iron frying pan until hot and fry chicken pieces, a few at a time, until well browned and crisp. NOTE: This will take about 10 minutes per batch.
Arrange browned chicken in a single layer in a large shallow baking pan. Sprinkle evenly with brown sugar. Pour chicken stock around chicken pieces. Set a thin lemon slice on top of each piece of chicken. Bake chicken, uncovered, approximately 40 to 50 minutes or until a meat thermometer registers an internal temperature of 165 degrees F. (juices will run clear when cut with the tip of a knife).
This is

the type of cooking and meat thermometer that I prefer and use in my cooking. I get many readers asking what cooking/meat thermometer that I prefer and use in my cooking and baking. I, personally, use the Thermapen Thermometer shown in the photo on the right. To learn more about this excellent thermometer and to also purchase one (if you desire), just click on the underlined: Thermapen Thermometer.
Remove from oven and transfer to a serving platter. May be served warm or cold.
Makes 6 to 8 servings.
https://whatscookingamerica.net/Poultry/LemonChicken.htm
Source:
I slightly adapted this recipe from the Silver Palate Cook Times Cookbook, by Julee Rosso and Sheila Lukins and the Wickwood Inn in Saugatuck, MI.
Comments and Reviews