Cilantro lovers will go crazy over this Cilantro Cole Slaw recipe.  So simple to make and so good.  Try it and find out!  Cilantro Cole Slaw is an outstanding salad on its own, but it is also great as a topping on your homemade tacos instead of lettuce.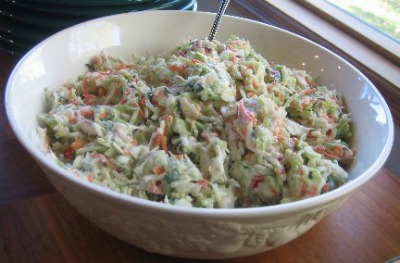 Cilantro Cole Slaw Recipe:
Ingredients:
Slaw Dressing (see recipe below)
1 medium head cabbage, finely chopped
1 cucumber, peeled, seeded, and chopped
1 bunch fresh cilantro, chopped
Instructions:
Prepare Slaw Dressing (see below).
In a large bowl, combine chopped cabbage, cucumber, and cilantro.
Pour the prepared Slaw Dressing over cabbage mixture and toss gently until blended.
For best results, cover and refrigerate several hours or overnight for flavors to blend. Gently toss again before serving.
Makes 6 to 8 servings.
Slaw Dressing Recipe:
1/3 cup freshly-squeezed lime juice
2 cloves garlic, minced
1/2 teaspoon coarse salt
1/4 cup granulated sugar
Red (cayenne) pepper to taste
1/2 teaspoon coarsely-ground black pepper
1/2 cup extra-virgin olive oil
In a small bowl, combine lime juice, garlic, salt, sugar, cayenne pepper, and black pepper; gradually add olive oil until well blended.
https://whatscookingamerica.net/Salad/CilantroColeSlaw.htm
Comments and Reviews