Deviled Egg Pasta Salad is delicious, especially if you love deviled eggs.  It is a very easy-to-make salad that taste great it is also deliciously addictive!
This is another one of my favorite salads to bring to a potluck.  This is a great salad to enjoy in the summer.  You can make the pasta the night before when the temperature cools down.  Chill the pasta in the refrigerator over night.   When you make it with the chilled past, the pasta holds up better as well.  It is the perfect pasta salad for a barbecue or a picnic.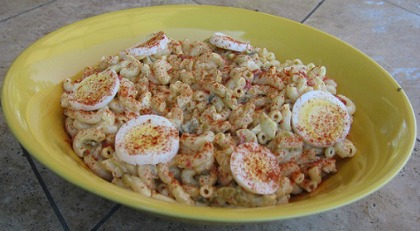 More of What's Cooking America's wonderful Salad and Salad Dressing Recipes and more great Pasta Recipes.
Deviled Egg Pasta Salad Recipe:
Deviled Egg Pasta Salad Recipe
Ingredients:
8 ounces elbow macaroni pasta*
4 hard-cooked eggs (3 chopped and 1 sliced)
3 sweet pickles, chopped (or to taste)
1/4 cup chopped piquante peppers, roasted red peppers, or pimiento peppers (your choice)
1/2 cup good-quality mayonnaise
1 tablespoon prepared mustard
Coarse salt and freshly ground black pepper to taste
Paprika
* You may substitute other types of pasta if desired.
Instructions:
Cook pasta according to package directions to al dente. Learn How To Cook Pasta Properly.
In a large bowl, combine cooked pasta, 3 chopped hard-cooked eggs, sweet pickles, peppers, mayonnaise, and mustard; stir to combine. Add salt and pepper to taste.
Place salad into a large serving bowl and garnish with the remaining sliced hard-cooked egg. Sprinkle paprika over sliced eggs.
Cover and refrigerate at least 2 hours or overnight before serving.
Makes 4 servings.
https://whatscookingamerica.net/Salad/DeviledEggPastaSalad.htm
Comments and Reviews