Cole slaw recipe with radicchio, cabbage and jicama is a colorful salad that is also fabulous to use as a stuffing in Spring Rolls.  The radicchio adds a beautiful color to the cabbage.  The jicama has a sweet and starchy flavor similar to an apple and adds an extra zest to the cole slaw.  I sometimes also add shrimp to this Cole Slaw recipe mixture.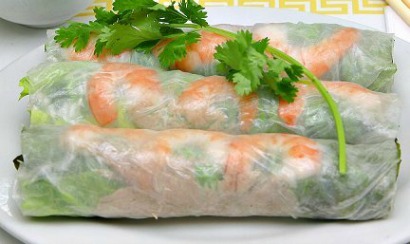 For more great Low Fat Recipes, Low Calorie Recipes, Low Carbohydrate recipes, and Diabetic Recipes, check out my Diet Recipe Index.  Also check out my Nutritional Chart for fat grams, fiber grams, and calories for all your favorite foods.
Cole Slaw Recipe with Radicchio, Cabbage, and Jicama:
Cole Slaw Recipe with Radicchio, Cabbage, and Jicama Recipe
Ingredients:
2 cup shredded or very thinly-sliced savory, red, or green cabbage
1 cup shredded or very thinly-sliced Radicchio or red cabbage
1 cup julienne jicama*
1/2 yellow sweet bell pepper, cored, seeded, and cut into match-stick size pieces
1/2 sweet onion, peeled and cup into match-stick size pieces
1 large carrot, coarsely grated
1/4 cup chopped fresh basil leaves
1/4 cup chopped fresh mint leaves
Coarse salt and freshly-ground black pepper
3 tablespoons mayonnaise
1 tablespoon rice wine vinegar
2 teaspoons sesame oil
* Jicama is sometimes called Mexican potato. It looks something like a cross between a potato and a turnip, with a thin brown skin, a round, turnip-like form and tail, and smooth white flesh. Jicama can be found in the produce section of most specialty markets and supermarkets.
Instructions:
The cabbage can be shredded the day before serving, but the jicama needs to be cut right before tossing. The dressing can be made up to 3 days ahead. Cover cabbage and dressing separately and refrigerate until ready to use.
In a large bowl, combine cabbage, radicchio, jicama, bell pepper, onion, and carrot. Add basil and mint. Sprinkle with coarse salt and pepper.
In a small bowl, combine mayonnaise, rice vinegar, and sesame oil; pour over the salad mixture and toss to coat. Cover and refrigerate approximately 1 hour before serving for flavors to blend.
To serve, toss salad again
Makes 8 servings.
Per Serving - 3.5 fat grams, 35 calories, 1.2 WW points
https://whatscookingamerica.net/Salad/RadicchioSlaw.htm
Comments and Reviews