Here is a fantastic Apple Coleslaw recipe that is tangy with a slight sweetness to it.  It is hard to put your finger on the tasty flavor combination in this coleslaw salad.  This coleslaw salad always gets compliments and people want to know what ingredients are used.  Be sure and put this delicious coleslaw recipe in your "To Make" file.
Try this easy-to-make Apple Coleslaw.  Especially good to accompany a barbecued or smoked Pulled Pork!
This recipe was shared by a family friend, Tacy Parker, from Beaverton, OR.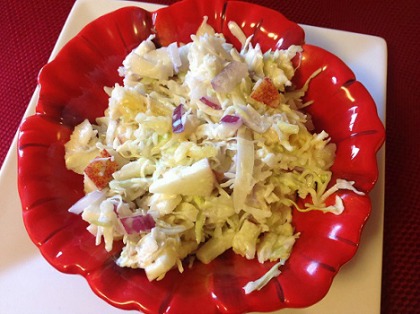 More wonderful Salads and Salad Dressing Recipes.
Apple Coleslaw Recipe:
Apple-Pineapple Coleslaw Recipe
Ingredients:
Coleslaw Dressing (see recipe below)*
1 medium head cabbage, finely chopped**
1/2 red onion, peeled and finely chopped
1 large tart apple, washed and coarsely chopped***
1 (8-ounce) can crushed pineapple (undrained)
* Hidden Valley Ranch Coleslaw Dressing is a good store-bought substitute with a similar taste. Use about 1 cup to toss the salad mixture or use enough until the salad is evenly coated to your tastes.
** Purchasing Cabbage: Always choose fresh cabbage by weight, not the size of the cabbage head. Choose firm heads that feel heavy for their size. Outer leaves should look fresh, have good color, and be free of blemishes. Tip: Can substitute 2 (10-ounce) bags of prewashed and shredded coleslaw cabbage to save time.
*** Granny Smith, Fuji, Gala, and Honey Crisp apples all work well in this slaw recipe.
Instructions:
Prepare Cole Slaw Dressing (see below).
In a large bowl, combine chopped cabbage, onion, apple, and crushed pineapple (with juice).
Pour prepared Slaw Dressing over cabbage mixture and toss gently until blended.
For best results, cover and refrigerate several hours or overnight for flavors to blend.
Gently toss again before serving.
Makes 6 to 8 servings.
Coleslaw Dressing:
1 cup mayonnaise
2 tablespoons granulated sugar
2 tablespoons cider vinegar
1/4 teaspoon dry mustard
Salt and pepper to taste
In a medium bowl, whisk together the mayonnaise, sugar, cider vinegar, dry mustard until the sugar dissolves. Add salt and pepper to taste.
https://whatscookingamerica.net/Salad/SimpleColeSlaw.htm
Comments and Reviews