Tomatoes Stuffed with Tuna and Capers are fresh tasting and full of delightful flavors!  Serve these stuffed tomatoes as a main dish for the perfect light summer meal.  With a good quality fresh bread and a glass of cool or slightly chilled white wine, this makes an excellent summer lunch or an ideal first course for a summer meal.  This delicious Tomatoes Stuffed with Tuna and Capers can be made several hours in advance and refrigerated, just bring almost to room temperature and serve.
Stuffed Tomatoes filled with tuna-mayo-celery salad used to be a standard at ladies' luncheons.  Here, capers, pine nuts, and herbs update and revitalize this classic tomato dish.
I slightly adapted this Tomatoes Stuffed with Tuna and Capers recipe from the cookbook You Say Tomato by Joanne Weir.  Photo from the Rachael Ray Show website.
Tomatoes Stuffed with Tuna and Capers Recipe:
TTomatoes Stuffed with Tuna and Capers Recipe
Ingredients:
6 medium firm ripe fresh tomatoes*
Coarse salt
2 tablespoons drained capers
1/4 cup pine nuts, toasted
2/3 cup chopped fresh flat-leaf parsley
1 teaspoon chopped fresh oregano leaves
2 cloves garlic, minced
1/4 cup extra-virgin olive oil
1 tablespoon fresh-squeezed lemon juice
2 (5-ounce) cans Italian tuna packed in oil, drained
Salt and freshly ground pepper
* Selecting Tomatoes: Select tomatoes that are firm, glossy, smooth, plump, heavy for their size, and free of bruises. Avoid tomatoes that are overly ripe and soft. Fragrance is a better indicator of a good tomato than color. Use your nose and smell the stem end. The stem should retain the garden aroma of the plant itself - if it does not, your tomato will lack flavor and, as far as I am concerned, will be good only for decoration! Remember - If the tomato smells fresh and tomato-y, they will taste that way too!
Instructions: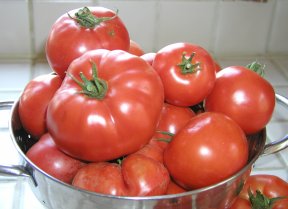 Go Local if possible: Tomatoes do not become more flavorful and develop adequate flavor unless allowed to ripen on the vine. They will change color and soften, but the sugar, acid, and aroma compounds are locked in once the fruit is taken off the vine. So, choose vine-ripened tomatoes, preferably locally grown, because the less the tomatoes have to travel, the more likely they were picked ripe. Seek out locally grown tomatoes whenever possible. They may not be as "pretty" as store bought, but beauty, of course, is only skin deep.
Cut a 3/4-inch slice off the stem end of each tomato; reserve the tops.
With a spoon, carefully scoop out the pulp and discard. Sprinkle the inside of the tomatoes with salt and place the tomatoes upside down on paper towels to drain for 1 hour.
In a medium bowl, mix together the capers, pine nuts, parsley, oregano, olive oil, and lemon juice. Add the flaked tuna and mix together gently. Season to taste with salt and pepper.
Sprinkle the inside of the tomatoes with pepper. Distribute the prepared tuna mixture evenly among the tomatoes, cover with the reserved tops, and serve.
NOTE: These stuffed tomatoes can be made several hours in advance and refrigerated; bring to room temperature before serving.
Makes 6 servings.
https://whatscookingamerica.net/Salad/TomatoSalad.htm
Comments and Reviews