Looking for a nice savory steak marinade?  This Big Hoss Steak Mariande recipe is a flavorful marinade that is excellent to use with strip steaks such as flank steak, flat iron steak, or skirt steak.  
The purpose of this Big Hoss Steak Marinade is to help tenderize less expensive and more tougher cuts of meat.  I have cooked flat-iron steaks in this marinade for a couple of Father's Day dinners.  I have always received rave reviews whenever I make this savory marinade . There never seems to be any steak leftovers!   For the best flavor results, I recommend to let the steak sit in the marinade overnight, then cook on the grill right before you are ready to serve.
Check out all of What's Cook America's Beef Recipes using various cuts of beef and Butters, Condiments, Sauces, Relish and Jelly Recipes for more great sauce ideas.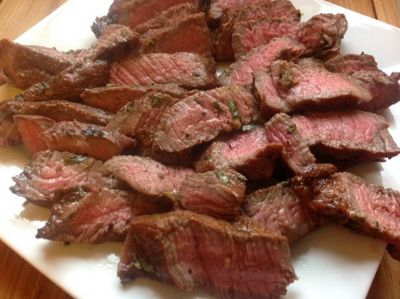 Big Hoss Steak Marinade Recipe:
Big Hoss Steak Marinade Recipe
Ingredients:
1/2 cup extra-virgin olive oil
1/3 cup soy sauce
1/4 cup good-quality Balsamic Vinegar
1/4 cup Worcestershire sauce
1/3 cup fresh-squeezed lemon juice
3 garlic cloves, finely minced
2 teaspoons brown sugar
1/4 cup of fresh basil, chopped*
1/4 cup fresh parsley, chopped**
1 teaspoon white pepper
1/8 teaspoon cayenne pepper
Salt to taste
* Can substitute 2 tablespoons of dried basil.
** Can substitute 2 tablespoons of dried parsley.
Instructions:
In a medium-size bowl, combine the olive oil, soy sauce, balsamic vinegar, Worcestershire sauce, lemon juice, garlic, brown sugar, basil, parsley, white pepper, cayenne pepper, and salt; whisking to blend.
Place your steak in the marinade and seal with lid or plastic wrap. Store marinading meat in refrigerator for at least 2 hours or overnight for best results before cooking the meat.
Store any unused barbecue sauce in airtight container and refrigerate for up to 2 weeks.
See my Big Hoss Flank Steak Recipe where I cook with this marinade.
Makes 3 to 4 servings.
https://whatscookingamerica.net/Sauces_Condiments/BigHoss-Marinade.htm
Comments and Reviews