This Vegetarian Tamale Casserole is a very hearty and substantial casserole that will appeal to all vegetarians and non-vegetarians, as it is tasty, satisfying, and filling.  It is one of those dishes you can make to warm you on a cool evening.  It also has just the right amount of kick to give you that southwestern flavor.  The cornbread crust is savory and crisp.  It reminds you of eating a fresh tamale without all the work involved in making them individually.
Vegetarian Tamale Casserole is a delicious recipe shared with me by Sherry Wells of Powell Butte, Oregon.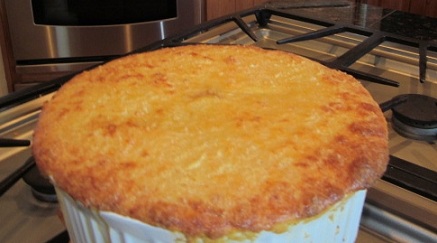 Check out Linda's Nutritional Chart for fat grams, fiber grams, and calories for all your favorite foods.
Vegetarian Tamale Casserole Recipe:
Vegetarian Tamale Casserole
Ingredients:
3 tablespoons olive oil
1 large onion, diced
3 garlic cloves, minced
1 (7-ounce) can of diced green chilies
1 pound extra-firm tofu, drained, pressed, and diced
1 tablespoon of chili powder
1 teaspoon of ground cumin
1 teaspoon of oregano
Pepper to taste
Dash of cayenne pepper
1 (28-ounce) can of diced tomatoes, drained
1 (15-ounce) can of kidney beans, rinsed and drained
1 cup of frozen and thawed corn kernels
2 teaspoons minced fresh cilantro leaves
Cornmeal Crust (see recipe below)
Instructions:
Preheat oven to 350 degrees F. Lightly oil or spray, with non-stick vegetable spray, a 2 1/2-quart casserole dish.
In a large skillet over medium heat, heat the olive oil. Add the onion, garlic, green chiles, tofu, chili powder, cumin, oregano, pepper, and cayenne pepper. Cook, stirring occasionally, until the tofu is lightly browned.
Add tomatoes, bring just to a boil, and then reduce heat to low. Add kidney beans, corn, and cilantro; simmer 5 additional minutes. Remove from heat an pour mixture into the prepared casserole dish; set aside.
Prepare the Cornmeal Crust (see recipe below). Spread the cornmeal mixture over the top of the casserole.
Bake 45 minutes or or until top begins to turn golden around the edges.
Makes 4 generous servings or 8 small servings.
Cornmeal Crust:
1 1/2 cups of cornmeal
2 teaspoons of baking powder
3 tablespoons butter or margarine, melted
1/2 cup almond milk or regular milk
1/2 cup of water
1 egg, beaten
1 cup shredded sharp cheddar cheese
In a large bowl, combine cornmeal and baking powder. Add the butter, milk, water, and egg; stir until combined. Stir in the grated cheese.
https://whatscookingamerica.net/SherryWells/VegetarianCasserole.htm
Comments and Reviews