Chilled Cucumber Soup is a wonderful recipe from the 1965 cookbook A Treasury of Great Recipes by Mary and Vincent Price.  The original recipe came from the Scandia Restaurant in Los Angeles, California.
This Chilled Cucumber Soup is a cool and refreshing soup that is sure to become one of your favorite summer soups to serve your family and friends.  This soup also makes a great appetizer dish to start your meal off.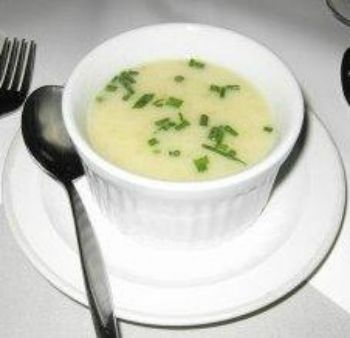 Chilled Cucumber Soup Recipe:
Chilled Cucumber Soup Recipe
Ingredients:
3 medium cucumbers, divided
2 tablespoons butter
1 leek, chopped (white part only)
2 bay leaves
1 tablespoon all-purpose flour
3 cups good-quality vegetable or chicken broth*
1 teaspoon salt
1 cup half and half cream
Juice of 1/2 lemon
Chopped dill
Sour cream
* Learn how easy it is to make your own homemade Chicken Stock - Basic Chicken Stock.
Instructions: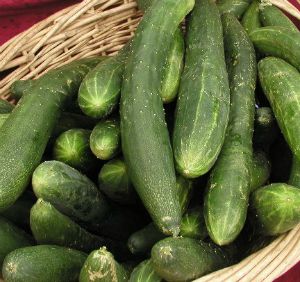 Peel and thinly slice two (2 cucumbers).
In a large pot over medium heat, melt butter; add sliced cucumbers, leek, and bay leaves. Cook slowly until tender, but not brown. Discard bay leaves.
Whisk in the flour until well combined. Add vegetable or chicken broth and salt; bring just to a boil, then reduce heat to low and let simmer approximately 20 to 30 minutes, stirring occasionally. Remove from heat and let cool.
Puree cooled soup mixture through a sieve or in a blender or food processor. Chill soup in refrigerator several hours.
Peel, halve, and remove seeds from remaining cucumber, then grate. Add to soup with half and half cream, lemon juice, and dill to taste. Correct seasoning with salt and pepper. Chill in refrigerator for at least another 30 minutes or longer, so soup will be icy cold when served.
Serve in cold soup cups and top each serving with a dollop of sour cream.
Makes 6 servings.
https://whatscookingamerica.net/Soup/CucumberSoup.htm
Comments and Reviews